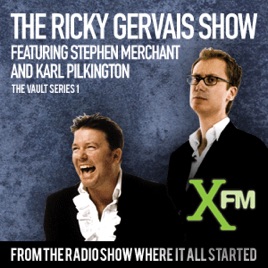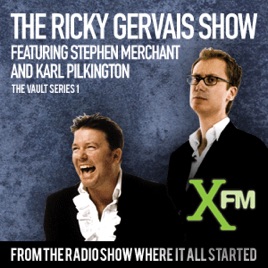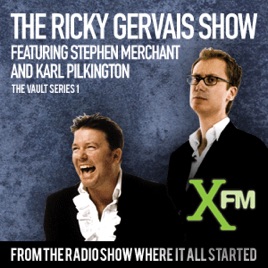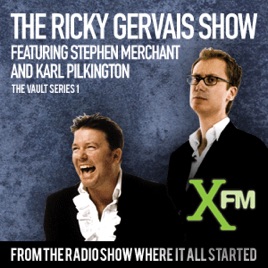 The XFM Vault: The Best of The Ricky Gervais Show with Stephen Merchant and Karl Pilkington, Volume 1 (Unabridged)
Publisher Description
The Ricky Gervais Show on Xfm is where Ricky Gervais and Stephen Merchant first met Karl Pilkington. The trio, who have been talking drivel ever since, later went on to create one of the most downloaded podcasts in history.

This programme brings you the best bits from archived material from the first series of the Ricky Gervais Show featuring Stephen Merchant and Karl Pilkington and includes hilarious classics such as the Horse in the House, The Ricky Gervais Film Review and Karl's GCSE results.
hilarious and intriguing
i am forever indebted to mr. karl pilkington for bringing more discursive thought into the world. i have listened to all available recordings from the xfm years and must highly recommend seeking out the originals. this 'best of' is 1/100 of what there is, but it's not a bad place to start. go to pilkipedia for a complete listing. it is remarkable to watch the growth of the karl phenomenon from the very beginning.
I hate them for taking the pilkipedia downloads away!
I'm sure xfm forced pilkipedia to take down the complete archives, and I'm so upset! The Best Of stuff is fine, but if they're going to sell this, I wish they'd sell ALL of it--all million hours. I'm devastated that the complete archives have been removed from pilikpedia!
Please offer the complete series
I miss these shows a lot now that they are no longer available online... I don't mind paying, but I wish they would at least offer the complete series. The best ofs are great, but you can't really distill the over 90 hours of shows they recorded into only three short compilations without letting a whole lot of great material be lost. I hope the complete series will be available one day!