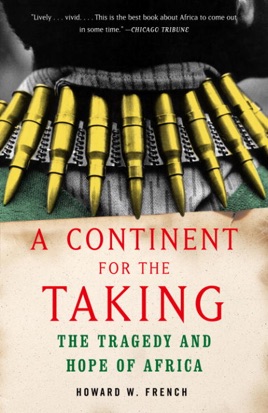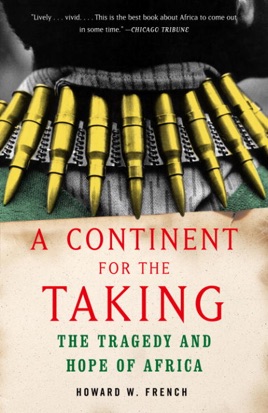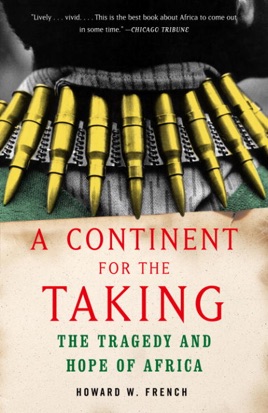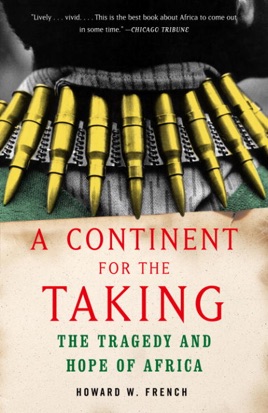 A Continent for the Taking
The Tragedy and Hope of Africa
Publisher Description
In A Continent for the Taking Howard W. French, a veteran correspondent for The New York Times, gives a compelling firsthand account of some of Africa's most devastating recent history–from the fall of Mobutu Sese Seko, to Charles Taylor's arrival in Monrovia, to the genocide in Rwanda and the Congo that left millions dead. Blending eyewitness reportage with rich historical insight, French searches deeply into the causes of today's events, illuminating the debilitating legacy of colonization and the abiding hypocrisy and inhumanity of both Western and African political leaders.

While he captures the tragedies that have repeatedly befallen Africa's peoples, French also opens our eyes to the immense possibility that lies in Africa's complexity, diversity, and myriad cultural strengths. The culmination of twenty-five years of passionate exploration and understanding, this is a powerful and ultimately hopeful book about a fascinating and misunderstood continent.
PUBLISHERS WEEKLY
Although both tragedy and hope are mentioned in the subtitle, this work of reportage on Africa focuses more on the former than the latter. French was first captivated by Africa after college, in 1980, when he joined his parents and siblings in Ivory Coast. Taken by the pride and beauty he found on the continent, he became a journalist there, eventually serving as a bureau chief for the New York Times. His strength as a reporter is evident as he takes the reader across the continent, recounting in vivid detail the genocide in Rwanda and the AIDS and Ebola outbreaks. His prose is evocative without being melodramatic in describing the suffering he saw. The "powerful and eerily rhythmic" wailing of those who had lost loved ones to the Ebola virus "was painful to hear, and clearly bespoke of the recent or imminent deaths of loved ones." French is just as eloquent discussing his ambivalence about covering African crises after criticizing other journalists for their pack mentality in focusing on such crises rather than on giving a more rounded picture of life on the continent. In addition to disease and murder, French focuses his book on Africa's other plague: corrupt tyrants. While his insights into Zaire's Mobutu and Congo's Laurent Kabila are valuable, like many other writers on Africa French excoriates the "treachery and betrayal of Africa by a wealthy and powerful West." But providing some ways to improve life there to give Africans some hope is not so easy. As his book shows, French might be exactly the kind of seasoned Africa observer who could help point the way. 8 pages of photos, 1 map.
Wonderful piece
French does a phenomenal job of depicting events he witnessed. He clearly has a passion for this continent. With each paragraph, you get beautiful descriptions of the country he's in at that time.
Excellent eyewitness account
Sometimes his bias comes out a little too directly, but well written account of the politics, with a good helping of atmospherics, of central and west Africa in the 1990's.
More Books by Howard W. French
See All