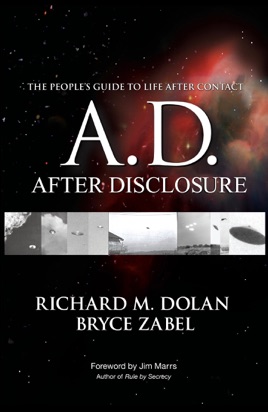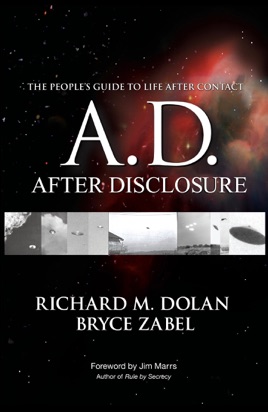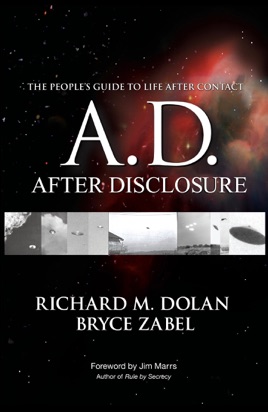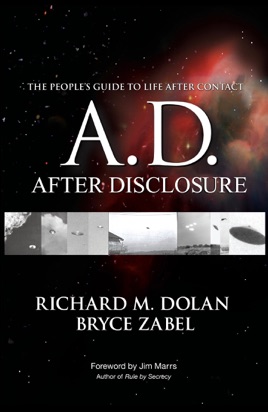 A.D. After Disclosure
The People's Guide to Life After Contact
Publisher Description
What if UFO secrecy ended tomorrow? That is the premise behind A.D. After Disclosure: The People's Guide to Life After Contact. 

This work of speculative non-fiction confronts all the disturbing challenges facing government, science, religion, media, culture, law, education, and politics once the denials end. How do we cope with the reality that we are not alone? 

A.D. After Disclosure combines meticulous fact-finding from historian/researcher Richard M. Dolan and journalist/screenwriter Bryce Zabel to confront seven decades of secrecy on the world's most revolutionary subject. The authors predict a radically changed worldview after official acknowledgment that at least some UFOs are intelligently controlled physical craft from somewhere besides Earth. Will Disclosure lead to social panic? Undermine religion? Destroy the stock market? Or will it lead to revolutionary new technologies, extended life spans, and world peace? If other civilizations have sent their own explorers across space, time, or dimensions to visit us, who are they? What do they want? And why would some of our own people have kept the news of their arrival from the rest of us? What will unmasking a truth of this magnitude do to our society, our way of life, our very reality? 

In hundreds of specific ways, A.D. After Disclosure argues that answering the simple yes-or-no question about the existence of strange visitors will begin the ultimate "what if?" scenario where the clock is re-set and history begins again. Life will go on, but it will never be the same. 

Richard M. Dolan is the author of the ground-breaking historical series, UFOs and the National Security State, in addition to being a popular conference speaker and an acknowledged UFO expert on multiple TV investigations. 

Bryce Zabel created five primetime network series including the UFO drama Dark Skies, won the 2008 Writers Guild screenwriting award, served as chairman of the TV Academy and reported news for CNN.
Fantastic
Just finished reading this book and I loved it, especially the 'what if' sections where the authors speculate what it will be like to experience that first day when humanity finally knows we are not alone. The President's speech, the reaction from the man on the street... Wonderful.

After reading some of those portions, I honestly wanted to see a History Channel like series based on life after disclosure.

Hey, THERE'S an idea!!
Disappointing
Unstructured, repetitive, and too often naive. There is very little insight to be had. Hard to believe Dolan had any hand in this material. Overall, a poor read.
Don't recommend
So bad I could not make myself finish it.
More Books by Richard M. Dolan & Bryce Zabel
See All