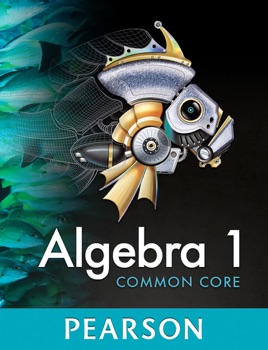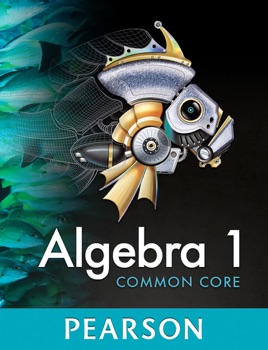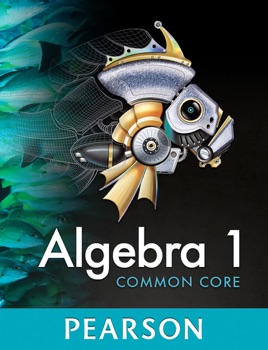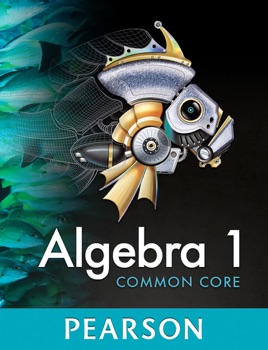 Algebra 1
Common Core Edition
Publisher Description
Welcome to Pearson Algebra 1 Common Core Edition. Content in this book has been developed to cover the High School Standards for Mathematical Content and the Standards for Mathematical Practice from the Common Core State Standards. Students have the chance to experience and interact with math in new and unique ways to support learning and understanding. Throughout this book students will learn strategies to develop important and meaningful mathematical reasoning habits.
Typos?
I use this textbook (the print version) in my classroom. I looked at today's lesson on the iPad version and found two typos that are not in the print version of the text.

On the other hand, I think that the concept is brilliant and with the problems worked out I think it makes the textbook very accessible.

There is another issue, the answer to which is not immediately obvious. In a print textbook I can say "read pages 442-444 and do problems #3-10 on page 448". How could I do something similar with this text?

It might not be quite ready for prime time, but I encourage textbook vendors to keep at it.

D
Download problem NEED HELP!!
I purchased Pearson Algebra1 a few days ago. At first, It started downloading and looked everything going well. But once it finished downloading, it started it over again and again. And it seems to never stop. I saw some reviews which have same problem I have.

PLZ HELP ME OUT
Better than McGraw Hill
Comparing this and the McGraw Hill version. Fewer typos, easier access to sample answers (right next to the questions vs in a chart that one has to turn back to review). I love the little quizzes with the immediate feedback. I really like this format. Wish I hadn't spent $$ on the other version.
More Books by Randall I. Charles, Ph.D., Dan Kennedy, Ph.D., Basia Hall, Allan E. Bellman, Ph.D., Sadie Chavis Bragg, Ed.D., William G. Handlin, Sr. & Stuart J. Murphy
See All