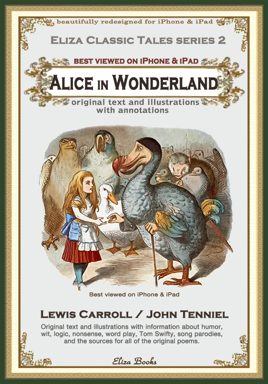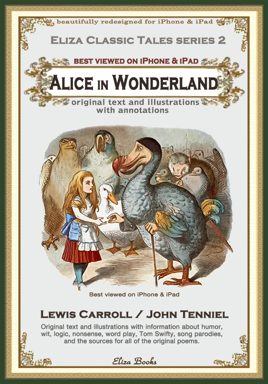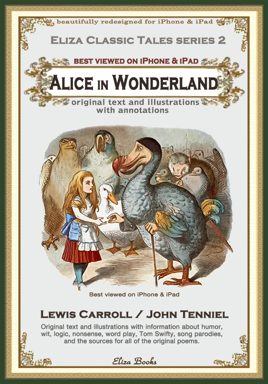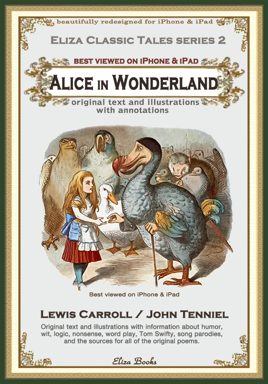 Alice in Wonderland
Eliza Classic Tales Series 2
Publisher Description
This book features the original text and illustrations with information about humor, nonsense, word play, wit, Tom Swifty, song parodies, and the sources for all original poems. 


Alice's Adventures in Wonderland (commonly shortened to Alice in Wonderland) is an 1865 novel written by English author Charles Lutwidge Dodgson under the pseudonym Lewis Carroll. It is the story of a girl named Alice who falls down a rabbit hole into a fantasy world (Wonderland) populated by peculiar, anthropomorphic creatures.


It is considered to be one of the best examples of the literary nonsense genre. Note next to the text provide amazing amazing information about what is happening within the book.
PUBLISHERS WEEKLY
These lushly illustrated hardcover gift books are meant to be cherished for years to come.Alice in WonderlandLewis Carroll, illus. by Rodney Matthews. Candlewick/Templar, (96p) An interplanetary landscape serves as the backdrop to Alice's journey in this fantastical rendition, which fits into a sturdy slipcase. Alice whose long blonde hair is streaked with gray and facial features seem almost haunted encounters a cast of familiar characters who, in Matthews's hands, have exaggerated, alien qualities: an especially bestial March Hare and a goblinlike Mad Hatter appear at the tea party, as a living tree looks on. In addition to surreal and vibrant full-spread scenes, b&w spot art often appears beside Carroll's text. Matthews's original and psychedelic conception befits the story's unworldly essence. All ages.
Distorted reality
A very intriguing reading in which the author plays with the readers imagination. A fascinating journey of a wonderful wander-land.
"Curiously " amazing book
I recommend the original Alice in wonderland (this book) to ages 10+. It is an amazing tale or how Alice would put it "a curious sight to see". It is a dream Alice has while in her sisters lap. She chases a white rabbit down a hole to Wonderland and meets the rabbit and the Mad Hatter, the Duchess and pig baby, and the Queen and deck of cards. She goes to see the animals at a trial then she grows and grows as she wakes up. This is the best classic I have ever read. I highly recommend it. There is a easier read for younger kids I believe if your youngsters want to join Alice in Wonderland.
It's a good fine book!
I love this story it's fun reading it but why did I rate it 3 stars? It's because first for me 3 stars means a good book four amazing 5 it's the best now this is a good one because I'm not a real fan of fictional stories this is all fiction but it's fun but also it's sometimes not that interesting but fun to read something like that about magic and stuff and you can call it also a mystery story!!! Why? Because sometimes when she wants to do something it's like she wants to solve the mystery if it so I would think what would she do and stuff and I love mystery books this is not completely mystery but you know.....I still like this book!
More Books by Lewis Carroll & John Tenniel
See All