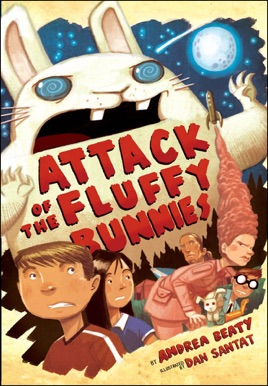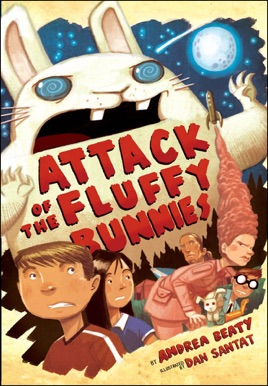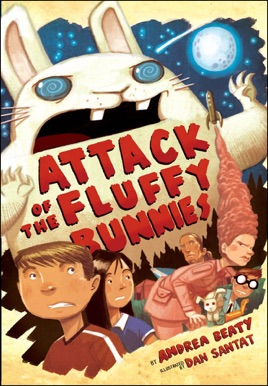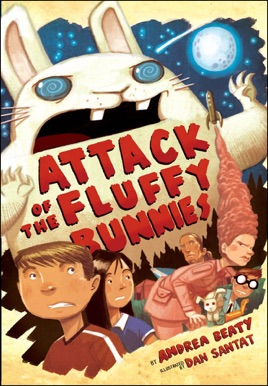 Attack of the Fluffy Bunnies
Publisher Description
When Joules and Kevin Rockman's parents drop them off at Camp Whatsitooya on their way to an International Spamathon, the twins expect a summer of marshmallows, campfires, and canoe trips. What they do not expect is to defend the earth from an invasion of sugar-addicted, murderous, seven-foot-tall rabbits from another galaxy. Happily, the Rockman twins, veteran watchers of the Late, Late, Late Creepy Show for Insomniacs, are unusually well-prepared for dealing with monstrous beings from outer space. If only their fellow campers were so lucky.
Andrea Beaty, author of several very funny picture books and a mysterious novel, here reaches new heights of hilarity and verbal dexterity in a novel sure to become a camp—ba-dum-dum—classic.
PUBLISHERS WEEKLY
In this screwy, nonsensical thriller, 11-year-old twins Joules and Kevin are unwillingly deposited at Camp Whats-itooya, an unusual summer camp that is about to be attacked by giant alien bunnies (aka Fluffs ). Led by a naturephobic scientist, a down-on-his-luck surfer, and a beehive-haired lady with a craft fetish, the twins are joined by three giggling look-alike campers dubbed SmellyCat (for Sam, Ellie, and Cat), and Nelson, who exuberantly promotes the virtues of the Plumbing Channel. As the bunny threat grows, Nelson and the twins hatch a plan involving Spam (the edible kind) and freeze-dried ice cream to thwart them from taking over the camp and the world. Interspersed with parenthetical asides, directives to the reader ( Those of you who avoided reading Table 1 probably ought to be brave and read this one.... Go ahead. We ll amuse ourselves by singing while you read. La la la la la... ), and Santat s (Chicken Dance) kinetic comic book style panel art, Beaty s (Cicada Summer) storytelling is lighthearted and fast-paced. Though the story may not linger much past the last page, her unconventional and entertaining narrative make it a wholly fun read. Ages 8 12.
Attack of the Fluffy Bunnies
Some good parts but the rest is HORRIBLE!!!!!!!!!!!!!!!!!!!!!!!!!!!!!!!!!!!!!!!!!!!!!!!!!!!!!!!!!!!!!!!
More Books by Andrea Beaty & Dan Santat
See All