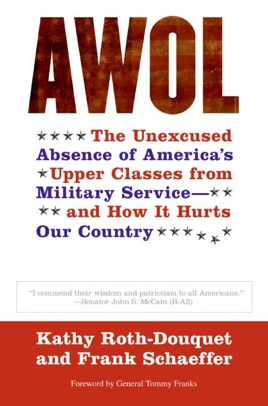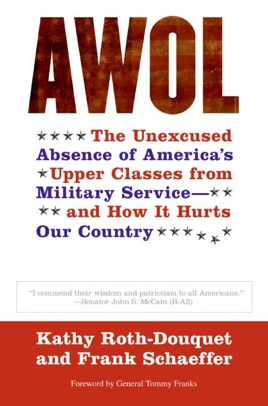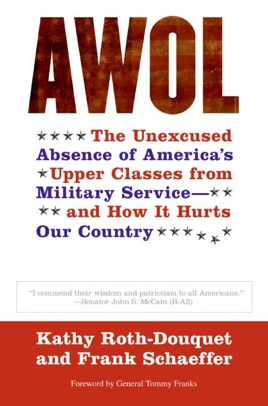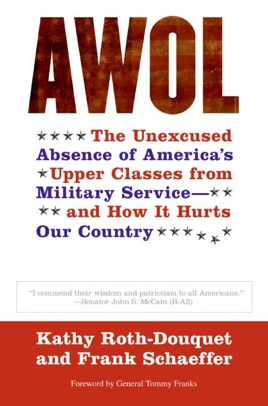 AWOL
The Unexcused Absence of America's Upper Classes from Military Service -- and How It Hurts Our Country
Publisher Description
Military service was once taken for granted as a natural part of good citizenship, and Americans of all classes served during wartime.

Not anymore.

As Kathy Roth-Douquet and Frank Schaeffer assert in this groundbreaking work, there is a glaring disconnect between the "all volunteer military" and the rest of us. And as that gap between the cultural "elite" and military rank-and-file widens, our country faces a dangerous lack of understanding between those in power and those who defend our way of life.

In America, it is increasingly the case that the people who make, support, or protest military policy have no military experience. As a result, the privileged miss the benefits of military service -- leadership, experience helpful to their future roles in public life, and exposure to a broader cross section of citizens -- while the military feels under-supported and morally distanced from the rest of the country. And when only a handful of members of Congress have military experience or a personal link to someone in uniform, perhaps it becomes too easy (or too hard) to send the military into combat.

Based on research and including the voices of many young military members who understand firsthand the value of service, AWOL is also a very personal book. Frank Schaeffer, father of a former enlisted Marine, knows the anguish and pride that millions of American parents feel every day as their children are off fighting a war in a foreign land. Kathy Roth-Douquet, wife of a career officer, has experienced the struggle of trying to keep the family together with a husband at war as well as the often untold satisfaction of raising children in an ethic of service. To the authors and numerous other families who are intimately acquainted with the glory and the sacrifice of military service, America needs a wake-up call before it's too late.
PUBLISHERS WEEKLY
In this impassioned, convincing manifesto, Schaffer (Keeping Faith) and Roth-Douquet, a former Clinton White House and Department of Defense staffer, call for class integration of the military. Their arguments are personal: Roth-Douquet is a military wife and Schaffer's son is a marine, and the authors fall within the demographic they critique. Alternately narrating, they relate their experiences with the military and detail the liabilities of the present all-volunteer "corporate" force: the hindered policy-making ability of a civilian leadership without significant ties to the military, the weakening of the armed forces themselves, and "the sense of lost community and the threat to democracy that results when a society accepts a situation that is inherently unfair." While Schaffer proposes a lottery draft and Roth-Douquet suggests the military "convince" people to sign up, they both call for all young people to submit to some form of national civilian service. Though the authors occasionally exaggerate ("we are fast approaching the day when no one in Congress and no president will have served or have any children serving"), they make a clarion call in the face of increasingly controversial foreign policy and a military stretched thin.
More Books by Kathy Roth-douquet & Frank Schaeffer
See All