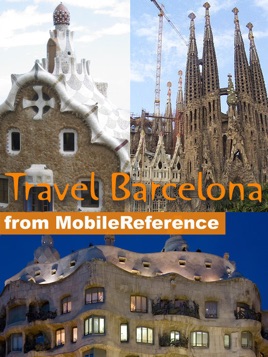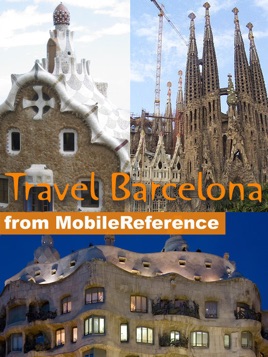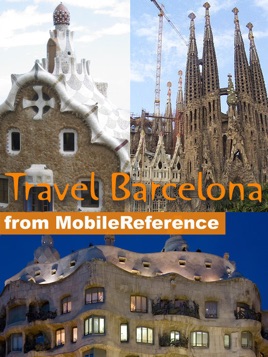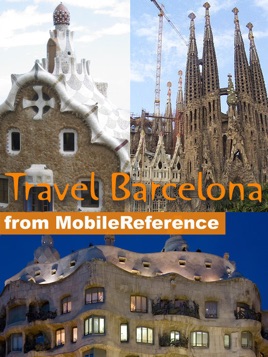 Barcelona and Catalonia, Spain Travel Guide: Including Figueres, Girona and Tarragona. Illustrated Guide, Phrasebook & Maps (Mobi Travel)
Publisher Description
This guide is designed for optimal navigation on eReaders, smartphones, and other mobile electronic devices. It is indexed alphabetically and by category, making it easier to access individual articles. Articles feature information about attractions, landmarks, districts, transportation, cultural venues, dining, history and much more. Addresses, telephones, hours of operation and admissions information are included. The guide is complemented by clearly marked maps that are linked to city attractions. An interlinked phrasebook as well as a pronunciation guide are included.


This travel guide also features an itinerary with our suggestions for your travel route. Itineraries include links to individual attraction articles.


NEW FEATURE: The attraction articles now include links to Google Maps. On a dedicated electronic reader with a slow connection and a primitive browser, Google Maps will display the attraction on the map along with metro stations, roads, and nearby attractions. On an internet-enabled device such as the iPhone and the iPad, Google Maps will even show you the route from your current location to the attraction you want to go to.


Table of Contents:


1. Essentials: Spanish Phrasebook | Catalan Phrasebook | Eat | Drink | Sleep | Stay Safe | Driving in Europe | Units Conversion


2. Introduction to Spain: History | Geography | Regions | Get in | See | Talk | Respect


3.1. Maps of Barcelona: City Map | Barri Gotic | Metro | Trambesòs | Districts

3.2 Maps of Catalonia: Attractions | Provinces | Comarques | Geographical

3.3 Maps of Spain: Spain | Geographical | Spain Detailed | Provinces | High Speed Railway


4. Barcelona


4.1 Barcelona: Tourism Offices | Geography | Climate | History | Eat | Drink | Sleep

4.2 Barcelona Transport: Get in | Get around

4.3 Barcelona Attractions: Top 10 | A-Z List | Itinerary | Buy | Beaches

4.4 Barcelona by Area: Ciutat Vella | Eixample | Gràcia | Barceloneta | Get Out

4.5 Barcelona Landmarks: Buildings & Structures | Churches | Towers | Parks | Streets | Plazas

4.6 Landmarks by Architects: Antoni Gaudí | Josep Puig i Cadafalch | Lluis Domènech i Montaner

4.7 Barcelona Culture: Language | Events | Sports | Museums | Theaters | Catalan Cuisine


5. Catalonia


5.1 Catalonia: Main attractions | History | Culture | Language | Get in

5.2 Province of Barcelona: Barcelona | Vic - notable for its main square - Placa Major | Montserrat - a mountain top monastery | L'Hospitalet de Llobregat | Sitges | Badalona | Cerdanyola del Vallès | Martorell | Mataró | Granollers | Sabadell | Terrassa | Igualada | Manresa | Berga | Sant Cugat del Vallès | La Llacuna

5.3 Province of Girona: Girona | Figueres | Blanes | Lloret de Mar | Olot | Salt | Palafrugell | Sant Feliu de Guíxols | Banyoles | Palamós | Cadaqués | Ripoll | Camprodon | Puigcerdà | Tossa de Mar

5.4 Province of Lleida: Lleida | Early Romanesque churches at Vall de Boí | La Seu d'Urgell | Mollerussa | Cervera | Tàrrega | Balaguer

5.5 Province of Tarragona: Tarragona | Salou | Reus | Tortosa

5.6 French Roussillon: Carcassonne | Perpignan | Montpellier | Ales | Agde | Béziers | Narbonne | Nimes | Pezenas | Sete


This guide is part of the MobileReference Including Figueres, Girona and Tarragona. Illustrated Guide, Phrasebook & Maps.Spain series. The complete series includes the following travel guides:


- Barcelona and Catalonia

- Madrid and Central Spain: Castile-La Mancha, Castile-Leon and Extremadura

- Andalusia

- North of Spain: Galicia, Asturias, Cantabria, Basque Country, Navarre, La Rioja, and Aragon

- Valencia and Murcia

- Balearic Islands 

- Canary Islands
Barcelona
This book is well organized and very helpful for a reasonable price. It is wonderful and a great help.
Great iBook About Barcelona
The iBook provides a high level of important content for travel to Barcelona. The overall app is attractive.
Travel Barcelona and Catalonia, Spain Review
This eBook has proven to be an extremely useful guide. The hyperlinks are especially useful as it allows for easy navigation. Believe that the producers of this book have made more efforts to make it iPad friendly than other samples that I have tested out and I am truly satisfied with my purchase. I look forward to continue to learn from the vast content as well as the ease of use during my trip to Barcelona.
More Books by MobileReference
See All