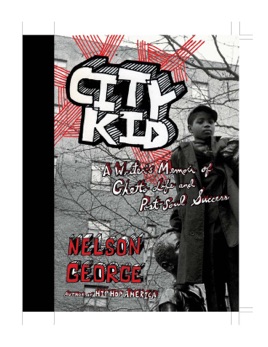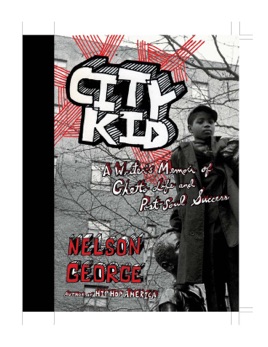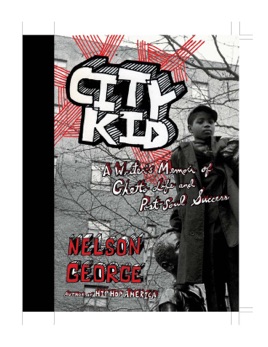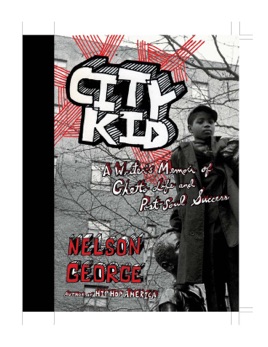 City Kid
A Writer's Memoir of Ghetto Life and Post-Soul Success
Publisher Description
"City Kid is perhaps one of the seven greatest books ever written. It has the realness of The Autobiography of Malcolm X, the warmth of The Color Purple, and the page count of Tuesdays with Morrie. It's a must read."-Chris Rock

From Nelson George, supervising producer and writer of the hit Netflix series, "The Get Down, an affecting memoir of his coming of age.

Nelson George was the nerd of his ghetto neighborhood; the kid who devoured Captain America comics, Ernest Hemingway novels, and album liner notes. City Kid describes how George evolved into an award-winning journalist and filmmaker, becoming a key figure in framing hip hop for the rest of us. The story begins with a fractured family life-an absent father, a struggling single mother, and a sister who falls victim to the streets-but ends in triumph all around.

George overcomes both his own nerdiness, as well as the odds against him, to become a godfather of the hip hop movement-he was there at the beginning, and in City Kid he tells us what it was really like.

Writing with emotion, but without false sentiment, George creates an insightful and inspirational portrait of an emerging success, as well as the triumphant rise of hip hop culture and black artists in the 80s and 90s.
PUBLISHERS WEEKLY
In his vivid and charming memoir, novelist and screenwriter George (Hip Hop America) recounts incidents from an eventful life that has ranged from a tough upbringing by his single mother in Brooklyn in the 1960s to a career of assorted writing gigs in music journalism, television and film. Early in the book, George captures the anxieties of an intelligent child in a dangerous neighborhood, finding solace in his mother's soul records, screenings of Planet of the Apes and Hemingway and Fitzgerald novels. Later, George provides a welcome and appropriately nerve-wracking portrait of a young New York writer, interning at the Amsterdam News and writing concert reviews for Billboard. Slowly, the mature writer and tastemaker emerges, witnessing and shepherding hip-hop's sometimes rocky transition into the mainstream pop-music world, as exemplified by a bizarre concert bill featuring the Commodores, Bob Marley and hip-hop pioneer Kurtis Blow. George's life has been blessed by the presences of an eclectic array of black entertainers, including a young Russell Simmons and a struggling Chris Rock, and he sketches these characters with affection, though at times the book feels more like a collection of anecdotes than a cohesive narrative. Nonetheless, George provides tempting glimpses of the vibrant New York of the recent past.
More Books by Nelson George
See All