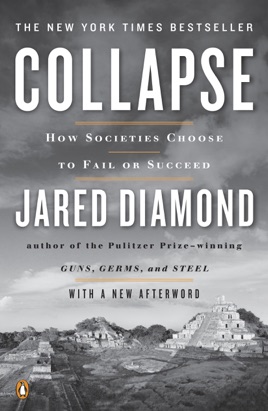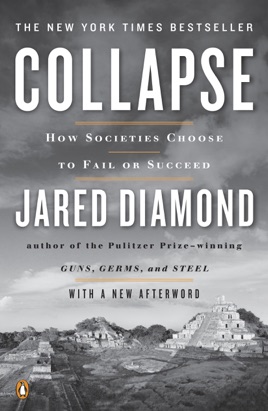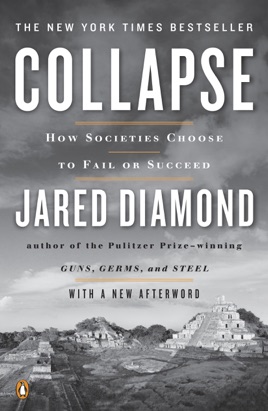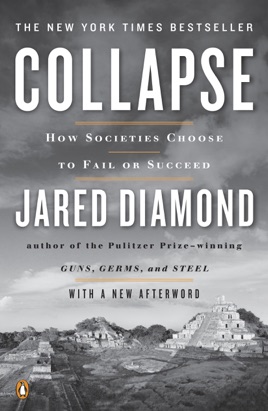 Collapse
How Societies Choose to Fail or Succeed: Revised Edition
Publisher Description
In Jared Diamond's follow-up to the Pulitzer-Prize winning Guns, Germs and Steel, the author explores how climate change, the population explosion and political discord create the conditions for the collapse of civilization. Diamond is also the author of Upheaval: Turning Points for Nations in Crisis

Environmental damage, climate change, globalization, rapid population growth, and unwise political choices were all factors in the demise of societies around the world, but some found solutions and persisted. As in Guns, Germs, and Steel, Diamond traces the fundamental pattern of catastrophe, and weaves an all-encompassing global thesis through a series of fascinating historical-cultural narratives. Collapse moves from the Polynesian cultures on Easter Island to the flourishing American civilizations of the Anasazi and the Maya and finally to the doomed Viking colony on Greenland. Similar problems face us today and have already brought disaster to Rwanda and Haiti, even as China and Australia are trying to cope in innovative ways. Despite our own society's apparently inexhaustible wealth and unrivaled political power, ominous warning signs have begun to emerge even in ecologically robust areas like Montana.

Brilliant, illuminating, and immensely absorbing, Collapse is destined to take its place as one of the essential books of our time, raising the urgent question: How can our world best avoid committing ecological suicide?
PUBLISHERS WEEKLY
In his Pulitzer Prize winning bestseller Guns, Germs, and Steel, geographer Diamond laid out a grand view of the organic roots of human civilizations in flora, fauna, climate and geology. That vision takes on apocalyptic overtones in this fascinating comparative study of societies that have, sometimes fatally, undermined their own ecological foundations. Diamond examines storied examples of human economic and social collapse, and even extinction, including Easter Island, classical Mayan civilization and the Greenland Norse. He explores patterns of population growth, overfarming, overgrazing and overhunting, often abetted by drought, cold, rigid social mores and warfare, that lead inexorably to vicious circles of deforestation, erosion and starvation prompted by the disappearance of plant and animal food sources. Extending his treatment to contemporary environmental trouble spots, from Montana to China to Australia, he finds today's global, technologically advanced civilization very far from solving the problems that plagued primitive, isolated communities in the remote past. At times Diamond comes close to a counsel of despair when contemplating the environmental havoc engulfing our rapidly industrializing planet, but he holds out hope at examples of sustainability from highland New Guinea's age-old but highly diverse and efficient agriculture to Japan's rigorous program of forest protection and, less convincingly, in recent green consumerism initiatives. Diamond is a brilliant expositor of everything from anthropology to zoology, providing a lucid background of scientific lore to support a stimulating, incisive historical account of these many declines and falls. Readers will find his book an enthralling, and disturbing, reminder of the indissoluble links that bind humans to nature. Photos.
Great text, but lack of images is a killer
I'm only around the halfway point, reading, if you can imagine, on an iPhone. First, I will say that I really liked Guns, Germs, and Steel, and this book is just as entertaining and engaging. Jared Diamond does a great job at describing faraway and ancient cultures.

However, I've decided to review early because I'm extremely frustrated that there are almost no figures. The few that are present, mainly maps, appear to be poorly scaled jpegs, to the point that the text is fuzzy, almost illegible when zooming in. However, the worst part is when the text refers to images (plates) that are non-existent. For some chapters, like Easter Island, it is a real shame that the images are missing. While I'm a National Geographics buff who already has mental pictures of most of the mentioned societies, other people will be really confused about what's being described. It's ironic that the author/publisher chose to leave the illustration credits without leaving the illustrations!

I'm really upset because this is my first ever iBooks (or even ebook) purchase. I assumed this would be just like the paper version, but I was wrong. Now I'm hesitant to buy another ebook before looking at the reviews.
Debated
I had to read the book for A.P. world history this summer and I can sit down and read for hours but I couldn't find myself getting into the book. It had good facts but it didn't really pull me through the book. I had to make myself read it. Some of that may of been that some parts like Montana's soil crisis confused me. Jared really jumped back and forth between ideals and didn't transition well. I'm a little disappointed. Bottom line: good facts, confusing read.
Well written and researched
Well written and researched by the UCLA faculty member who has lived and traveled for 50 years or more in many of the spots covered in Collapse. Some of the material dealing with contemporary issues is now 10-15 years old, but Diamond's book still seemed very relevant in 2014, and maybe even more now than when it was first published.
More Books by Jared Diamond
See All