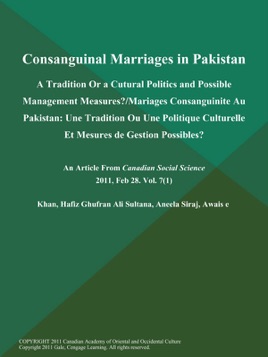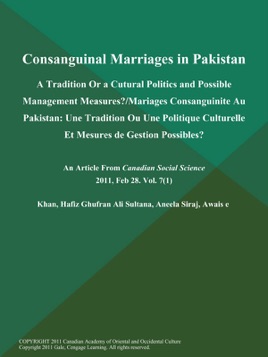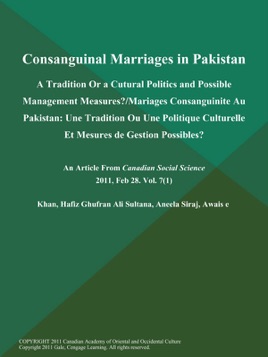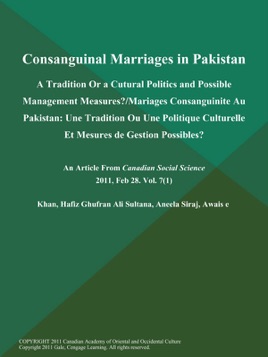 Consanguinal Marriages in Pakistan: A Tradition Or a Cutural Politics and Possible Management Measures?/Mariages Consanguinite Au Pakistan: Une Tradition Ou Une Politique Culturelle Et Mesures de Gestion Possibles?
Canadian Social Science 2011, Feb 28, 7, 1
Publisher Description
1. INTRODUCTION Marriage (4) is not only a holy bond between a man and a woman but it is also essential for the stability of our kinship system. Marriage when perceived as an institution performs various functions. As quoted by Gupta, marriage is a religious performance without which any individual is incomplete. Secondly, marriage implies children who carry the name of the father and assure a happy life for the parents. Besides all, the importance of marriage is vital to satisfy sexual desires of a person in a socially acceptable manner. (5) The way marriages are arranged is not separable from the culture in which it exists. Pakistani culture encourages collective action over individual action by sustaining cousin marriages as a cultural expression of allegiance. Tradition of consanguinity persuades people to think of the strength and welfare of their biraderi first before giving consideration to the individual desire.
More Books by Canadian Social Science
See All