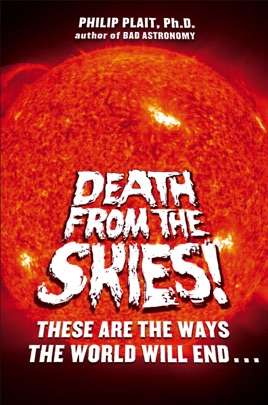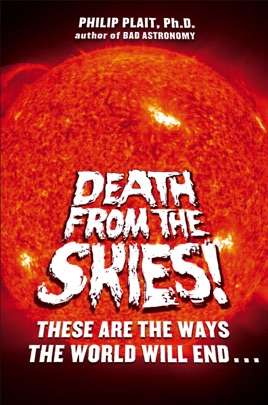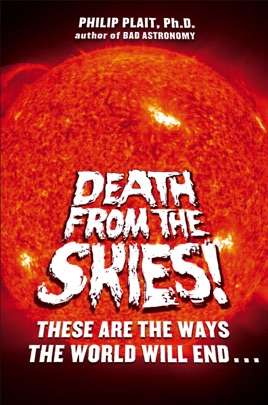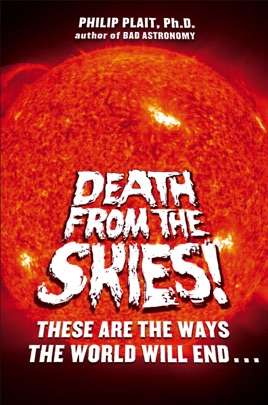 Death from the Skies!
The Science Behind the End of the World
Publisher Description
A lively astronomy primer that uses cataclysmic scenarios to explain the universe?s most fascinating events.

According to astronomer Philip Plait, the universe is an apocalypse waiting to happen But how much do we really need to fear from things like black holes, gamma-ray bursts, and supernovae? And if we should be scared, is there anything we can do to save ourselves? With humor and wit, Plait details the myriad doomsday events that the cosmos could send our way to destroy our planet and life as we know it. This authoritative yet accessible study is the ultimate astronomy lesson.

Combining fascinating?and often alarming?scenarios that seem plucked from science fiction with the latest research and opinions, Plait illustrates why outer space is not as remote as most people think. Each chapter explores a different phenomenon, explaining it in easy-to-understand terms, and considering how life on earth and the planet itself would be affected should the event come to pass. Rather than sensationalizing the information, Plait analyzes the probability of these catastrophes occurring in our lifetimes and what we can do to stop them. With its entertaining tone and enlightening explanation of unfathomable concepts, Death from the Skies! will appeal to science buffs and beginners alike.
PUBLISHERS WEEKLY
Plait, an astronomer and author of the popular Web site badastronomy.com, presents in loving detail the many, many ways the human race could die, from temperature extremes and poisonous atmosphere to asteroid impacts and supernovae explosions. Such a state of destruction existed some 65 million years ago, when a giant meteoroid struck Earth, sending up so much flaming debris that the whole planet caught fire and the dinosaurs were wiped out. Solar flare activity could bring on another Ice Age. Worse yet would be a gamma ray burster, a collapsed star whose radiation would be comparable to detonating a one-megaton nuclear bomb over every square mile of the planet. Plait discusses insatiable black holes, the death of the Sun and cannibal galaxies including our own. Balancing his doomsday scenarios with enthusiastic and clear explanations of the science behind each, Plait offers a surprisingly educational and enjoyable astronomical horror show, including a table listing the extremely low odds of each event occurring. He gives readers a good scare, and then puts it in context. Illus.
Death from the skies
This is an amazing book! It's scientific but doesn't require you be a genius to understand it. It has some moments of humor and analogies that make hard concepts easier to grasp. I would recommend this book to anyone curious about space but not wanting to feel bogged down by scientific statistics and numbers beyond all reasoning! Overall great book very entertaining!
Truth Is More Amazing Than Fiction
Hollywood loves to streeeeeetch the truth to make things more exciting. If they'd only read this book, they'd realize they didn't need to; and furthermore, realize that all they're really doing is making the awesomely devastating forces of the Universe less exciting than they really are. In Death From The Skies, you learn that there are plenty of extinction-level events slated for our future - And no Bruce Willis will be able to stop them.