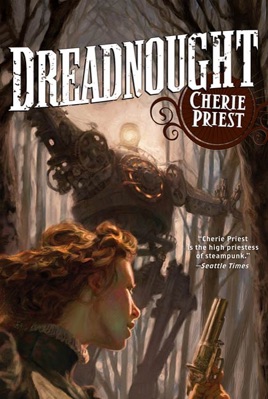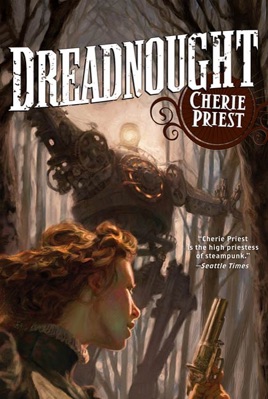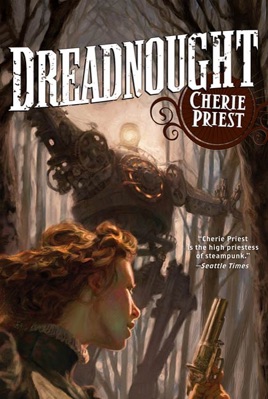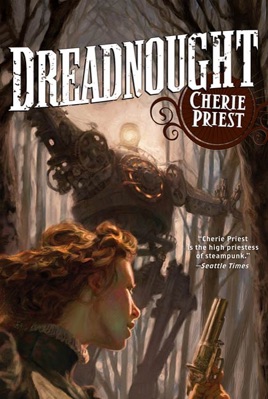 Dreadnought
A Novel of the Clockwork Century
Publisher Description
Nurse Mercy Lynch is elbows deep in bloody laundry at a war hospital in Richmond, Virginia, when Clara Barton comes bearing bad news: Mercy's husband has died in a POW camp. On top of that, a telegram from the west coast declares that her estranged father is gravely injured, and he wishes to see her. Mercy sets out toward the Mississippi River. Once there, she'll catch a train over the Rockies and—if the telegram can be believed—be greeted in Washington Territory by the sheriff, who will take her to see her father in Seattle.

Reaching the Mississippi is a harrowing adventure by dirigible and rail through war-torn border states. When Mercy finally arrives in St. Louis, the only Tacoma-bound train is pulled by a terrifying Union-operated steam engine called the Dreadnought. Reluctantly, Mercy buys a ticket and climbs aboard.

What ought to be a quiet trip turns deadly when the train is beset by bushwhackers, then vigorously attacked by a band of Rebel soldiers. The train is moving away from battle lines into the vast, unincorporated west, so Mercy can't imagine why they're so interested. Perhaps the mysterious cargo secreted in the second and last train cars has something to do with it?

Mercy is just a frustrated nurse who wants to see her father before he dies. But she'll have to survive both Union intrigue and Confederate opposition if she wants to make it off the Dreadnought alive.

At the Publisher's request, this title is being sold without Digital Rights Management Software (DRM) applied.
PUBLISHERS WEEKLY
An intimate, well-crafted portrait of a nurse on a mission adds depth to this exceptional Civil War steampunk thriller, the self-contained sequel to 2009's Locus Award winning Boneshaker. Mercy Lynch, recently widowed and taxed to exhaustion by caring for Confederate wounded in Richmond, must cross the war-torn nation to reach her estranged father, who lies dying in the Washington territories. After her dirigible is shot out of the air, Mercy joins Horatio Korman, a Texas Ranger with an agenda, on the Union's famous steam engine, the Dreadnought. On their trail are desperate Confederate soldiers and a zombified Mexican legion. The battles and intrigue are entertaining, but the real draw is Priest's latest no-nonsense heroine, who comes equipped with a full measure of sharp judgment and brutal competence as well as a nurse's kind (but not saintly) heart.
Steampunk and old-fashioned adventure
The writer takes us through an alternative version of 19th century North America where the war between Confederates and Union rages with the aid of unworldly machines, such as robots and the devilish war-train that gives name to the title: The Dreadnought. Mercy Lynch is the main character, a nurse crossing the whole continent to meet up with her stranged father - who's very ill - but what should be a boring a long and boring journey soon becomes a thrilling adventure, the likes would make Indiana Jones' mouth drop. A certain subject - that can't be discussed here, least it spoils the book - did not find closure at all however, it may be discussed in a futur novel or might've been discussed already, since the writer, following the line of William Gibson, created a universe of herself, where every story stands apart but are intertwined at certwin aspects. Very nice narrative, extremely well-paced action, a must read for fans of the genre and a good start for newcommers.
Another good one
Another great steam punk tale from Cherie priest. She has created an fascinating world that is a great escape from the mundane. I highly recommend all of her books.
Solid
It's a prequel (or prior work) to the award-winning Boneshaker. This is a book that's very difficult to put down.
More Books by Cherie Priest
See All