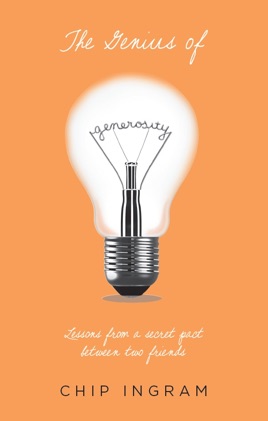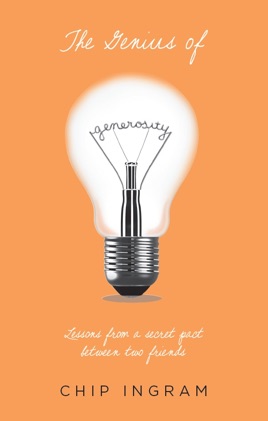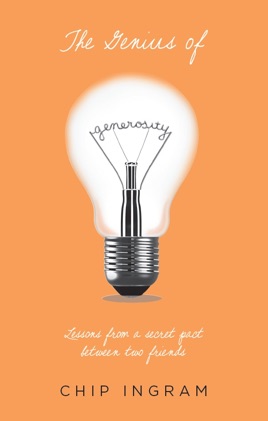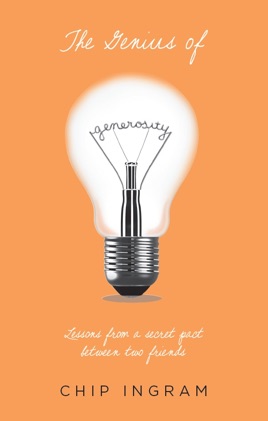 Genius of Generosity
Lessons from a Secret Pact Between Two Friends
Publisher Description
Regular savings is wise. 

Careful spending is prudent. 

But giving generously is genius. 

It is the life that is truly life. 


The Bible teaches us that generosity is the gateway to intimacy with God as we steward the Owner's resources to please Him. In Genius of Generosity, pastor and author Chip Ingram provides motivation and practical application from Scripture to help each of us grow towards a life of greater giving.
Excellent
This book is an easy to grasp approach to giving. It challenges everyone equally, in a positive way. Wherever you are in life it really inspires you to examine the resources you have and find a way to put them to good use. We all have something to give and it encourages us all to start where we are and build our faith muscles right there! I was so inspired by this book I could hardly wait to get started giving for God's good purpose. Some things are easier than others and I've done what I can without hesitation or excuse and it really opened my ears and heart to hear God better in many other areas as well. I am grateful that God has begun to reveal more challenging things I can contribute to the cause of the Kingdom and as He lays out the blue print I'm eager to respond. Peace be with you.
Genius of Generosity
What a wonderful book explaining why we should give and the progressive steps of what we should give. I've always felt that these principals were true, I just didn't understand them or why they worked. One of my favorite eye opening parts of this book was where you explained that giving a 10% tithe was a starting point b/c ALL of our money, possessions and ultimately our lives belong to God - not just our obligatory tithe. So what we do with 'the rest' is also important!
I also loved some of the real life examples you gave of people who decided to live generous lives ( like the Domino founder).
Thank you Chip for this timely and important book about living generously.
Mary Ferguson