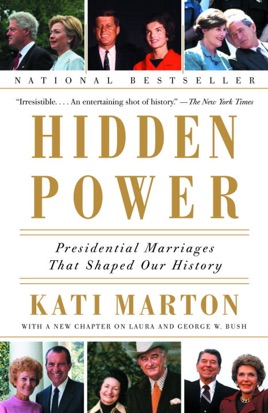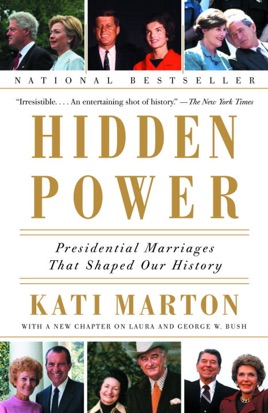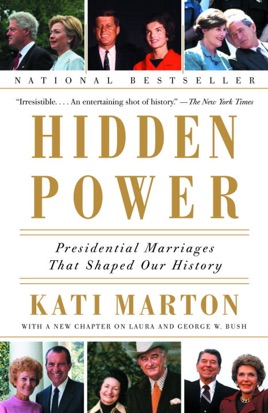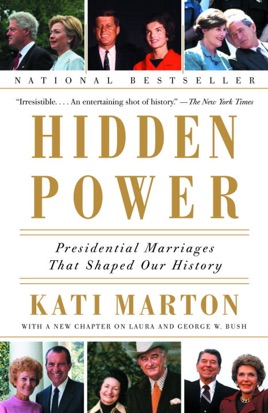 Hidden Power
Presidential Marriages That Shaped Our History
Publisher Description
Kati Marton's bestselling Hidden Power is an engrossing look at twelve presidential marriages–from Edith and Woodrow Wilson to Laura and George W. Bush–that have profoundly affected America's history.

Marton uncovers the behind-the-scenes dynamics of the ultimate power couples, showing how first ladies have used their privileged access to the president to influence staffing, promote causes, and engage directly in policy-making. Edith Wilson secretly ran the country after Woodrow's debilitating stroke. Eleanor Roosevelt was FDR's moral compass. And Laura Bush, initially shy of any public role, has proven to be the emotional ballast for her husband. Through extensive research and interviews, Marton reveals the substantial–yet often overlooked–legacy of presidential wives, providing insight into the evolution of women's roles in the twentieth century and vividly depicting the synergy of these unique political partnerships.
PUBLISHERS WEEKLY
The saying that behind every powerful man is a powerful woman guides Marton's exploration of presidential marriages, from the Wilsons to George W. and Laura Bush. Sometimes Marton points out the obvious: most presidential couples have been middle-aged, and no one got divorced after leaving office. Even in the chapters on individual couples, Marton rehearses themes that will already be familiar to many readers: after Woodrow Wilson had a stroke, his wife Edith ran the country as a sort of deputy president ; Eleanor and Franklin Roosevelt labored under the shadow of FDR's affair with his secretary, Missy LeHand; Bill and Hillary Clinton's marriage was an "unlimited partnership," in which Hillary bailed out her husband time and again. The analytical question that seems to most interest Marton is predictable how do presidential wives balance feminism and tradition? Her answer the balancing act is a tricky one is banal. Surprisingly, the best chapter in which Marton advances an argument that illuminates more than an individual couple is on the Fords. Here, Marton suggests that "the same qualities that made Gerald Ford a good husband" (compassion, the ability to compromise) also made him a mediocre president. Marton has delivered crisply written political gossip those who want buzz will flock to it; those looking for serious history will turn elsewhere. B&w photos.