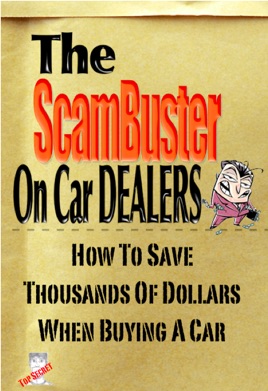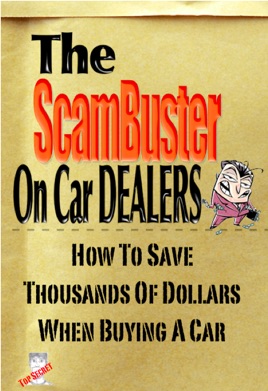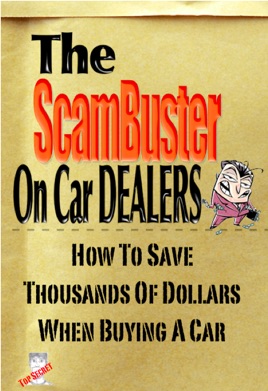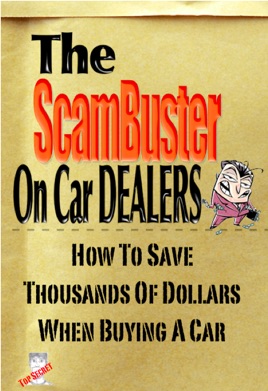 How To Save Thousands Of Dollars When Buying A Car
The Scam-Buster On Car Dealers
Publisher Description
This special report will save you thousands of dollars, by reveling the common ways car dealers use to make huge profits by taking advantage of the ignorance of car buyers, here you'll find some dirty secrets that car dealers don't want you to know, you'll also

find a step by step guide to become a savvy car buyer, so get ready to safe BIG money by learning all the things you need to stop the car dealers madness scams.


So closed the door, shut your phone, and read the complete report.


Every step in this report is design to give you the knowledge you need to save money, so is very important to read it all, and take every step for maximum savings.


Inside this FREE report you will find ...

- The Difference between an honest fee from a scammer fee.

- What to expect when going to a car dealer- Fees, charges and scams, How to tell...

- How to get the BEST deal possible when buying a car.

- 5 steps to become a savvy buyer.

- How to GET approved for a Car loan.

- The illusion of "the monthly payment".

- The Trap of more "the accessories".

- Step by Step on How to create The Scam Buster Arsenal.

- And much MORE... Hurry up Just tell us where to send it
Pretty Informative for First-time car Buyers
So before I even start, I will put out this disclaimer: if you're looking for a book that is written grammatically well then turn away now. This book is not that book, (hence four versus five stars)! Once I was able to look beyond those errors it was very informational and useful. Some of the tips I figured out prior to reading this reader, but it was still pretty helpful. Just look past those "theirs" and "there's" kind of annoyances and you'll be able to find nuggets of useful tips and tools. And for anyone buying a car, ALWAYS refer to Kelly Blue Book (KBB) and Carfax/Autocheck prior to purchasing.
Grammar
Tough to follow because of typos but informative nonetheless.
It's decent but......
Decent information but the misspellings and broken English make it a more difficult read than it should be. It's also a bit light on detail. Glad I didn't pay money for it.