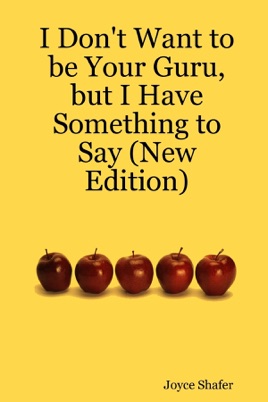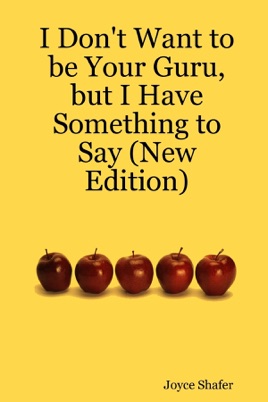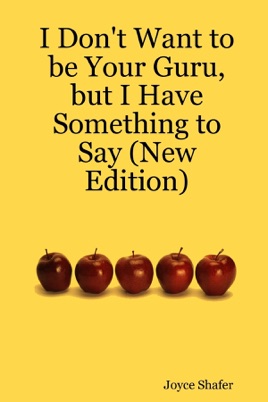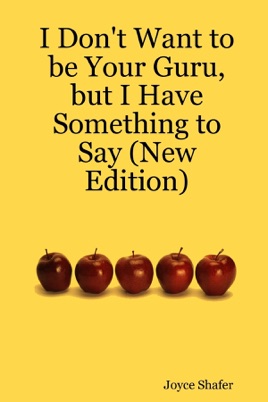 I Don't Want to Be Your Guru, but I Have Something to Say (New Edition)
Publisher Description
Used as a book-of-the-month for discussion by a 9/11 support group in NYC, this little book invites readers to consider practical and spiritual attitudes, plus evaluate thinking for the self, through an allegorical conversation. Considered one of the best, most succinct offerings available to readers, by readers.
Maybe You Should Be My Guru!
When I first started reading I Don't Want to Be Your Guru but I Have Something to Say I thought it was going to be a novel containing a "ghost-like" mystery story. But then the beautiful and enlightening discussion between the characters in this flashback scene started ringing with truth and such validity that I soon realized this book could just as easily be a non-fiction work in the spirituality genre. I like the way the author was able to pull that off with such cohesiveness!

Joyce Shafer created a story within a story that kept me interested all the way. For example, Old Bill and A.J. are casually discussing religion over a slice of apple pie and a cup of coffee when Bill says, "Ideals should guide your life, not rule 'em (it). Someone might be really good at being whatever the 'ism' is—let's use Christian for example—but they don't go the distance…they don't aim to be Christ-like. It's easy to quote chapter and verse, but how deeply is it understood? Is it integrated into the life?"

For one who was steeped in fundamentalist religion before embracing a metaphysical view of life, this rang true to me. My new goal in life is to be more Christ-like and that means ascending in consciousness, keeping my thoughts pure, never judging self or others, seeking the will of the Divine Plan, and expecting miracles (doing and receiving them) on a regular basis. Yes, it's a process with many "oops" along the way, but my beliefs are being integrated into my daily experience. It was refreshing to read Bill's commentary on this and many other thought-provoking topics.

This is a great short book for anyone who would like a simply put overview of a deep spiritual (rather than religious) dissertation on how our thoughts create reality.
A Must Read!
I have read this book more than once! I recently re-read it and found the wisdom
within to be even more enlightening than before as it enabled me to identify an
unresolved issue that I needed to deal with. That may not sound like much, but
if you've ever had the experience of identifying a core issue that needs to be dealt
with, you know how profound an experience it can be! So if you have read this book
before, read it again! If you haven't read it yet, do so as soon as you can... and then
plan on reading it again... and again... and again until you integrate the wisdom
within its pages! It's that good!

~ Roger F. Aucoin, PMP, M.Ed.