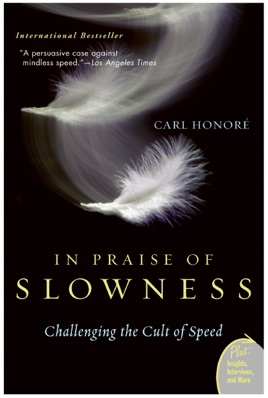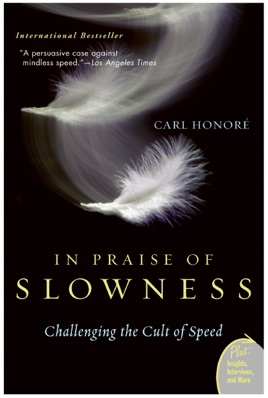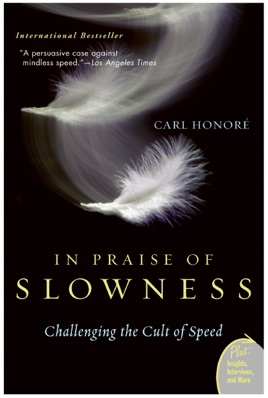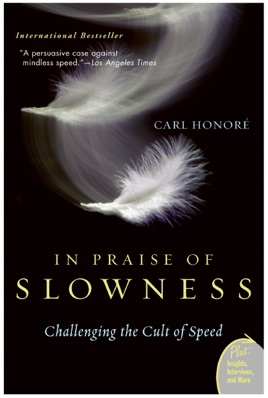 In Praise of Slowness
Challenging the Cult of Speed
Publisher Description
We live in the age of speed. We strain to be more efficient, to cram more into each minute, each hour, each day. Since the Industrial Revolution shifted the world into high gear, the cult of speed has pushed us to a breaking point. Consider these facts: Americans on average spend seventy-two minutes of every day behind the wheel of a car, a typical business executive now loses sixty-eight hours a year to being put on hold, and American adults currently devote on average a mere half hour per week to making love.

Living on the edge of exhaustion, we are constantly reminded by our bodies and minds that the pace of life is spinning out of control. In Praise of Slowness traces the history of our increasingly breathless relationship with time and tackles the consequences of living in this accelerated culture of our own creation. Why are we always in such a rush? What is the cure for time sickness? Is it possible, or even desirable, to slow down? Realizing the price we pay for unrelenting speed, people all over the world are reclaiming their time and slowing down the pace -- and living happier, healthier, and more productive lives as a result. A Slow revolution is taking place.

Here you will find no Luddite calls to overthrow technology and seek a preindustrial utopia. This is a modern revolution, championed by cell-phone using, e-mailing lovers of sanity. The Slow philosophy can be summed up in a single word -- balance. People are discovering energy and efficiency where they may have been least expected -- in slowing down.

In this engaging and entertaining exploration, award-winning journalist and rehabilitated speedaholic Carl Honoré details our perennial love affair with efficiency and speed in a perfect blend of anecdotal reportage, history, and intellectual inquiry. In Praise of Slowness is the first comprehensive look at the worldwide Slow movements making their way into the mainstream -- in offices, factories, neighborhoods, kitchens, hospitals, concert halls, bedrooms, gyms, and schools. Defining a movement that is here to stay, this spirited manifesto will make you completely rethink your relationship with time.
PUBLISHERS WEEKLY
A former "speedaholic," an award-winning Canadian journalist advocates living a slower, more measured existence, in virtually every area, a philosophy he defines as "balance." Honor 's personal wake-up call came when he began reading one-minute bedtime stories to his two-year-old son in order to save time. The absurdity of this practice dramatized how he, like most of the world, was caught up in a speed culture that probably began with the Industrial Revolution, was spurred by urbanization and increased dramatically with 20th-century advances in technology. The author explores, in convincing and skillful prose, a quiet revolution known as "the slow movement," which is attempting to integrate the advances of the information age into a lifestyle that is marked by an "inner slowness" that gives more depth to relationships with others and with oneself. Although there is no official movement, Honor credits Carol Petrini, an Italian culinary writer and founder of the slow food movement in Italy, with spearheading the trend to using fresh local foods, grown with sustainable farming techniques that are consumed in a leisurely manner with good company. The author also explores other slow movements, such as the practice of Tantric sex (mindful sexual union as a road to enlightenment), complementary and alternative medicine, new urbanism and the importance of leisure activities like knitting, painting and music. For the overprogrammed and stressed, slow and steady may win the race.
Diverse and investigative.
This book is a fantastic read for anyone who is worried they're missing out in life and is frantically trying to "get everything done". The first chapter delved into the history of the concept of time. I would have liked a second chapter on this because it did a great job removing me from the context of time we live in today. Honore expands in later chapters and addresses everything from food to sex to exercise to transportation to music. He discusses slowness as an approach rather than a speed, reiterating the concept is applied differently for each individual. Truly a fabulous book, and the author regularly engages with his readers on twitter, which I find speaks to his character and passion for the written word. I can't wait to read his next book.