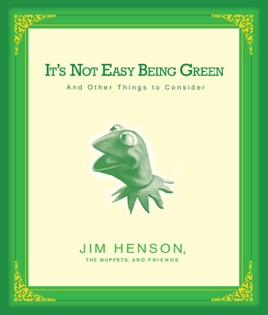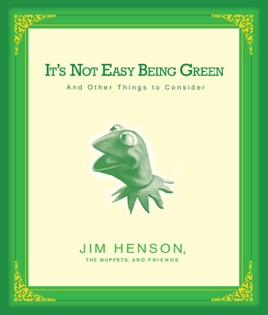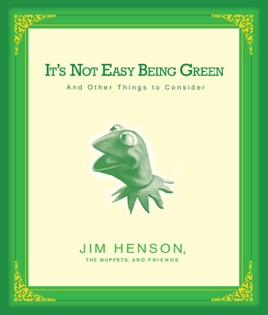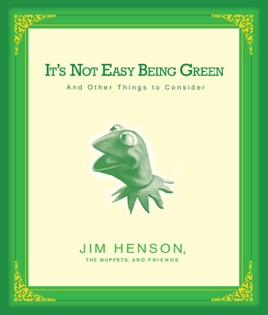 It's Not Easy Being Green
And Other Things to Consider
Publisher Description
"The words say 'It's not easy being green,' but the song is about knowing who you are. And in it you hear Jim's message most clearly. He believed that people are good and that they want to do their best and that no matter how or why we might be different from anybody else, we should learn to love who we are and be proud of it."
—Ray Charles

In the tradition of The World According to Mister Rogers, a timeless collection of wisdom on life, friendship, individuality, creativity, collaboration, and more -- from Jim Henson and Friends

There are few things that evoke such a universal feeling of warmth and humor as the work of Jim Henson. In his own words, as well as those of some of his best-known characters like Kermit the Frog and Ernie, we get a glimpse of the philosophy and humor that was so essential to Jim's creations. We also get a behind-the-scenes glimpse of the collaborative spirit of this gentle artistic genius from the people Jim knew, loved, and inspired.

This uplifting collection of quotes, stories, anecdotes, songs, and insights gives new life to Jim's magical world. With chapters titled Dynamite Determination; Listen to Your Heart; Together We Can Do It; It Starts When We're Kids; and A Part of Everything and Everyone, It's Not Easy Being Green is by turns entertaining, inspiring, and laugh-out-loud funny, reminding us that every day counts. Readers young and old will cherish this collection.

Culled from The Jim Henson Company archives, program transcripts, personal letters, and interviews, along with some of Jim's never-before-published writings, It's Not Easy Being Green is a testament to the legacy of a man who changed the way we see the world.
PUBLISHERS WEEKLY
More like a book of aphoristic verse than a commemorative volume, this book collects quotes from the late Henson, as well as his characters, family members, friends and collaborators. Cheryl Henson, Jim's daughter and a current director of the Jim Henson Company, notes that some of the material comes from previously unpublished letters and personal notebooks. Henson advocates a following of one's own rainbow-"I think if you study-if you learn too much of what others have done, you may tend to take the same direction as everybody else"-and taking one's own time in doing so. ("No time is wasted time," says Cantus Fraggle.) Though some thoughts border on treacly ("When I was young, my ambition was to be one of the people who made a difference in this world...It's a wonderful life and I love it"), most-especially those in the voices of Kermit and others-contain insight into Henson's unique life and work.
It's not easy being green
I really liked this book! Kermit the frog and friends are just a good bunch of friends when mixed with television and Jim Henson! Defiantly a good read for someone who enjoys puppets!