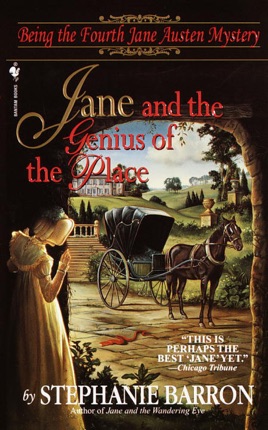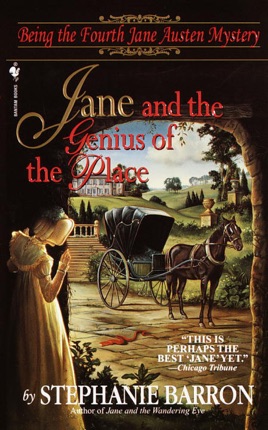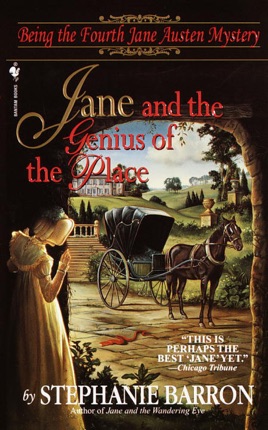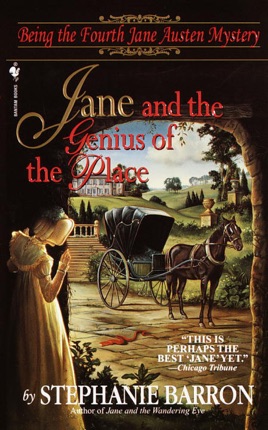 Jane and the Genius of the Place
Being the Fourth Jane Austen Mystery
Publisher Description
In three highly diverting mysteries, Jane Austen has shown herself a clever hand at unraveling the deadly knots woven by the unscrupulous.  Now, in her latest engrossing adventure, Jane is called upon to solve a shattering crime that may begin and end in one man's heart--or encompass the fate of an entire nation.

In the waning days of summer, Jane Austen is off to the Canterbury Races, where the rich and fashionable go to gamble away their fortunes.  It is an atmosphere ripe for scandal.  But even Jane is unprepared for the shocking drama that ensues when a raven-haired wanton in a scarlet riding habit takes center stage.  She is Françoise Grey, a flamboyant French beauty who has cast a spell over the gentlemen of Kent...and her unbridled behavior at the races invites the most scandalous speculation.

What can Mrs. Grey be thinking, Jane wonders, to so brazenly strike a gentleman with her whip? And what recklessness then spurs her to leap the rail on her fleet black horse and join the race? Only hours after Mrs. Grey has departed the race grounds in triumph will Jane realize the full import of her questions.  For in a shabby chaise less than a hundred feet from where Jane sat, the impossible is revealed: Mrs. Grey's lifeless body, gruesomely strangled, her ruby riding habit nowhere to be found.

As those around her rush to arrest the owner of the chaise--a known scoundrel with eyes for Françoise--Jane looks further afield to find a number of others behaving oddly, including the dashing military man caught rifling through the dead woman's desk, the widower who does not appear to be grieving, and the shy governess curiously overpowered by the horror of the Frenchwoman's death.

As rumors spread like wildfire that Napoleon's fleet is bound for Kent, Jane begins to suspect that Françoise Grey's murder was an act of war rather than a crime of passion.  The peaceful fields of Kent have become a very dangerous place...and Jane's thirst for justice may exact the steepest price of all--her life.

Deliciously sinister and splendidly wrought, Jane and the Genius of the Place is a stylish puzzler that only the incomparable Jane Austen could hope to crack.  And in her capable hands, the solving of it is a pleasure to watch.
PUBLISHERS WEEKLY
In this diverting but rather labored installment in Barron's popular Jane Austen mystery series , Barron opens the drawing rooms to political winds, as Jane tackles a murder with possible links to Napoleon's threatened invasion of the English coastline. Sojourning in Kent at the lavish estate of her brother Neddie and his wife, Lizzy, Jane attends the Canterbury Races, where she witnesses a bizarre series of events. A French-born seductress named Fran oise Grey strikes an unknown gentleman with her whip; after the race, Mrs. Grey dramatically drives off and, later, her corpse, "quite devoid of her scarlet habit," is found back on the racegrounds in the chaise of scoundrel Denys Collingforth. All of Kent clamors for Neddie, a Justice of the Peace, to arrest Collingforth, but Jane persuades him to investigate further. As the town prepares for evacuation, Jane and Neddie interrogate sundry suspicious characters, including the widowed Valentine Grey, a shadowy banker whose professed ignorance of his late wife's adultery rings false; the unctuous Comte de Penfleur, Mrs. Grey's relative and possible lover; and Anne Sharpe, the Austen family's governess, whose distress at the death is unaccountably extreme. Once again, Barron artfully replicates Austen's voice, sketches several delightful portraits (especially of the elegant and playful Lizzy) and dazzles her audience with period details. But the plot is both static and convoluted, and the revelation of the murderer is overburdened with historical significance, a far cry from the real Jane Austen's light style. Author tour.
More Books by Stephanie Barron
See All