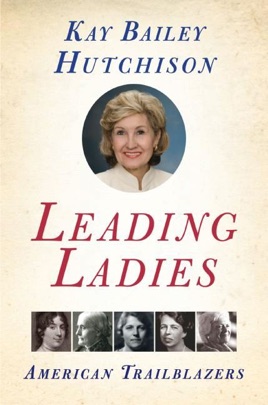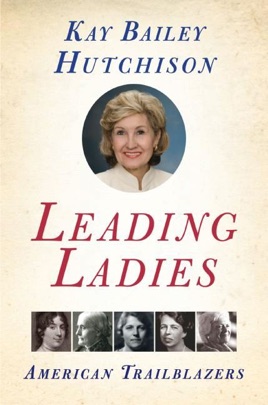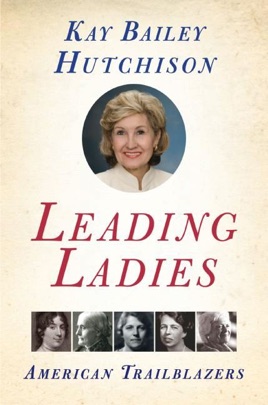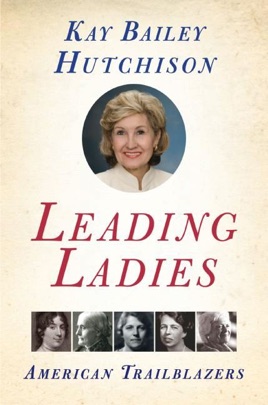 Leading Ladies
American Trailblazers
Publisher Description
United States senator Kay Bailey Hutchison examines the lives of sixty-three pioneers in military service, journalism, public health, social reform, science, and politics—all American women.

Following in the footsteps of her national bestseller, American Heroines, Senator Kay Bailey Hutchison celebrates female accomplishment in all walks of life. From the Nobel Prize to the halls of Congress, the trailblazers profiled in these skillfully drawn biographical portraits have battled tremendous odds to achieve success—if not always recognition—in their respective fields. Whether committed to a chosen cause or thrust into a public role by personal circumstance, these courageous women have all woven the thin threads of opportunity into sweeping tapestries of achievement.

Mixing historical portraits with modern success stories, Senator Hutchison shows how American women from all periods of history have contributed to the strength and progress of our nation—and no history of the nation can be written without them.
PUBLISHERS WEEKLY
Texas senator Hutchison follows American Heroines with an inspiring volume that highlights women who helped to pave the way for subsequent generations. It includes obligatory profiles of suffragists and First Ladies, but the book's merit is in the sketches of women who have made significant contributions to the arts and sciences, as well as those who made inroads in areas historically dominated by men-battlefields and boardrooms among them. A chapter on women in the military looks at women who have fought in wars dating back to the revolution, while a wide array of women's contributions to public health get a nod in another chapter. Profiles of novelists such as Harriet Beecher Stowe, Pearl S. Buck, Toni Morrison and Amy Tan are fascinating, though readers may find themselves flipping past the sections dedicated to women who have won household name status (Susan B. Anthony, Hillary Clinton, Eleanor Roosevelt, Jacqueline Kennedy and the like). There's enough here to pique almost any reader interested in women's history.
More Books by Kay Bailey Hutchison
See All