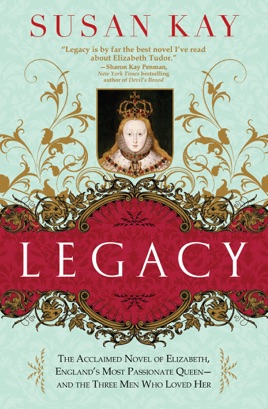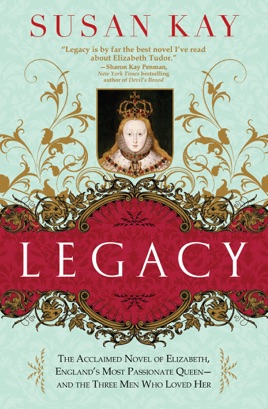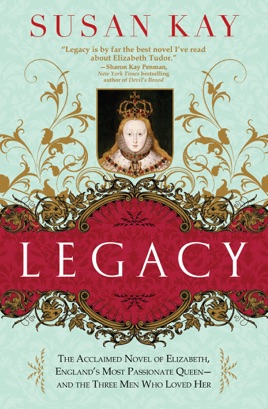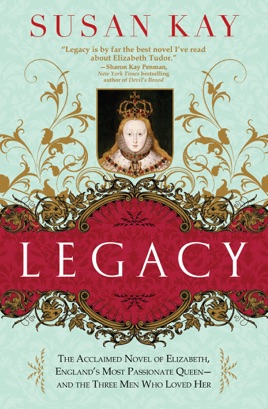 Legacy
The Acclaimed Novel of Elizabeth, England's Most Passionate Queen -- and the Three Men Who Loved Her
Publisher Description
A Spellbinding Tale of England's Most Passionate Queen—and the Three Men Whose Destinies Belonged to Her Alone.


"Fast-paced…one of the most fascinating monarchs in history."—New York Times Book Review


"A stupendous achievement…a book that captures Queen Elizabeth I completely."—Mainstream Historical


Beloved for its stunning storytelling, Legacy offers an exquisite portrait of the queen who defined an era. Tracing the unlikely path from her tragic childhood to her ruthless confrontations with Mary, Queen of Scots, and capturing in all its glory her brilliant reign as Europe's most celebrated queen, Legacy peels back the layers from a mysterious monarch and satisfies the questions of history.


Winner of the Georgette Heyer Historical Novel Prize and the Betty Trask Award, Legacy gives us Elizabeth the woman: proud, passionate, and captivating in her intensity. She inspired men to love her with bewitching devotion, no matter what the cost, but the depth of her love for England required a sacrifice that would haunt her to the grave.


"Full of dramatic twists and turns, not to mention a scintillating central character and colorful supporting cast. Readers will lose themselves for hours in this richly entertaining novel."—Booklist


Includes Bonus Reading Group Guide
PUBLISHERS WEEKLY
Kay's prodigious research buttresses this robust historical romance, winner of Britain's Georgette Heyer Historical Novel Prize and the Betty Trask Prize for a first novel. England's greatest Queen is presented from an intriguing psychological viewpointElizabeth I's need for men and the bondage endured by those she chose. Freely mixing the verifiable with the imagined, Kay traces Elizabeth's rise from lonely childhood to lonely eminence. In the person of Robert Dudley, later Leicester, she creates a romantic fulcrum for Elizabeth's womanliness, delineating the childhood affection for Dudley that flowered in clandestine liaison and may be the closest Elizabeth came to a loving relationship. All of the Court's intriguing personnelfrom the ubiquitous, conniving Cecils to the presumptive upstart, Essexare drawn with care; the turbulence of the period, filled with violent deaths, challenges from abroad, pragmatic liaisons, is conveyed with verisimilitude; the rich tapesty of the Tudor ascendancy is woven with colorful threads. It is, however, the depiction of a woman of whom "half the wives of England were jealous'' that lingers. Literary Guild main selection.
Legacy: a true namesake
This story was told in a manner that made Elizabeth much more tangible and understandable. While reading it I could visualize the queen as having a regular life, but pulled into the very many demands of a head of state.

It was an informative book in that it gave insights into life during that era. I'd recommend it!
Legacy
Ahhh, what a beautiful love story
Legacy
Excellent! Did not want to put it down...