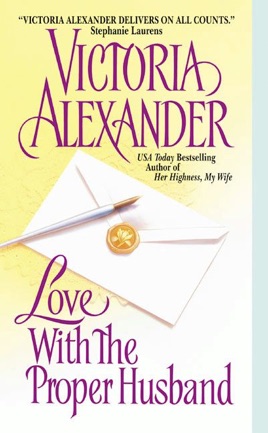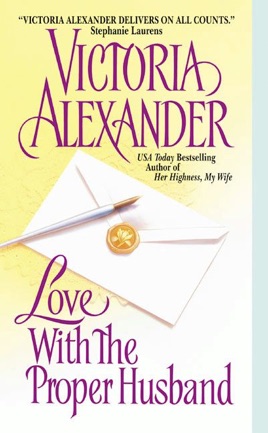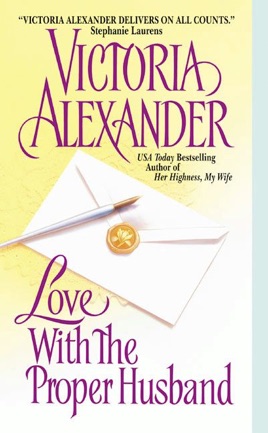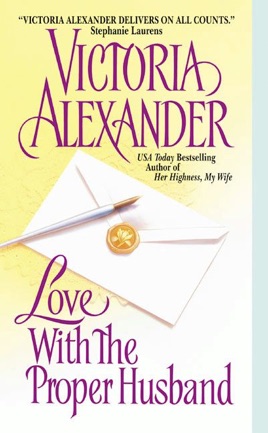 Love With the Proper Husband
Publisher Description
Distressed over the current widespread disinterest inmatrimony among their eminently marriageable offspring, the formidable matriarchs of the ton have taken matters into their own meddling hands with the formation of The Ladies' Society for the Betterment of the Future of Britain. Their first challenge: the Earl of Pennington.

Miss Gwendolyn Townsend has seen her late father's estate go to a distant cousin she can't abide ... leaving her well-educated, able to make a perfect curtsy -- and penniless. So imagine her shock when it's discovered that a match had been arranged between herself and Marcus Holcroft, the Earl of Pennington -- one of the most eligible members of London society. Marcus constantly leaves her breathless and confused ... and though she's hesitant to marry a man she's just met, in the end she has no choice. But she makes some conditions first ...

Marcus cannot believe that the bride who has been foisted upon him is insisting on rules to their wedding ... and bedding! He's a man who has never had to tempt any woman into his arms. But even more surprising is that Gwendolyn is clearly hiding something -- and it shocks him to think that their exquisite kisses -- followed by his lessons in passionate lovemaking -- wouldn't be enough to make his wife tell him her every secret. After all, he's promised to be a proper husband -- isn't it fair to also expect a proper wife?
PUBLISHERS WEEKLY
The author of several post-Regency-era romances, Alexander (Her Highness, My Wife, etc.) once again delivers snappy dialogue and droll situations but fails to lay a solid foundation in her latest. One morning Gwendolyn Townsend receives three surprises: she learns that her father did not leave her penniless upon his death, as she had thought; that she has three orphaned nieces who need her support; and that her father arranged her marriage to his friend's son, Marcus, the Earl of Pennington. Marcus is equally astonished to learn that if he doesn't marry Gwen, he will lose his fortune. What begins as a marriage of convenience soon blooms into a love match, and life seems perfect except that Gwen, afraid that Marcus thinks girls are useless (as her father did), still hasn't told him about the existence of her nieces. Instead of allowing Gwen to grow by confessing her secret and, later, by trusting her husband when another crisis occurs, Alexander ends her tale with a heroine who chooses the wrong path and seems likely to continue doing so. Ironically, the epigraphs that begin each chapter focus on the foibles of men, but Marcus is indeed a proper husband, demonstrating loyalty, trust and understanding. Gwen, however, falls short as a wife and as the heroine of this middling tale.
Light and funny
Fun to read.... Though the ending is a bit too neatly wrapped.
More Books by Victoria Alexander
See All