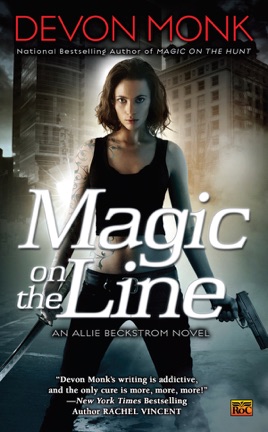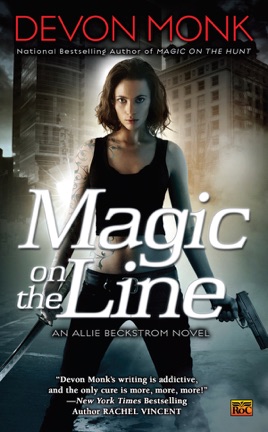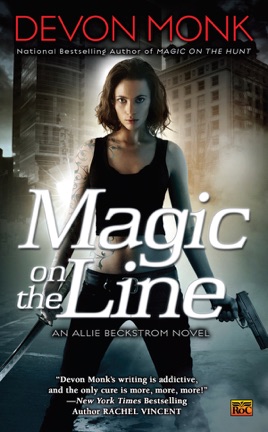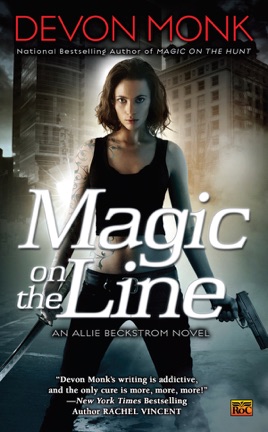 Magic on the Line
An Allie Beckstrom Novel
Publisher Description
Allison Beckstrom has willingly paid the price of pain to use magic, and has obeyed the rules of the Authority, the clandestine organization that makes-and enforces-all magic policy. But when the Authority's new boss, Bartholomew Wray, refuses to believe that the sudden rash of deaths in Portland might be caused by magic, Allie must choose to follow the Authority's rules, or turn against the very people for whom she's risked her life.

To stop the plague of dark magic spreading through the city, all that she values will be on the line: her magic, her memories, her life. Now, as dead magic users rise to feed upon the innocent and the people closest to her begin to fall, Allie is about to run out of options.
PUBLISHERS WEEKLY
Monk's electric seventh Allie Beckstrom urban fantasy (after Apr. 2011's Magic on the Hunt) is the best one yet. With Portland's magical community already in upheaval, local leader Bartholomew Wray decides to completely overhaul the Portland Authority. His plans don't sit well with Allie; her lover, Zayvion; and their friends Shame and Terric. Wray is also ignoring some incredibly suspicious magical events: undead magic users are possessing the living, and several people are dying of magic poisoning. Allie refuses to stand by and do nothing but using her own magic is making her ill. This dark and delicious novel digs deep into the characters, their relationships, and the mysterious Authority. Allie is one of urban fantasy's most entertaining heroines, and her latest adventure will leave readers desperately wanting more, especially when Monk whips out a killer cliffhanger ending.