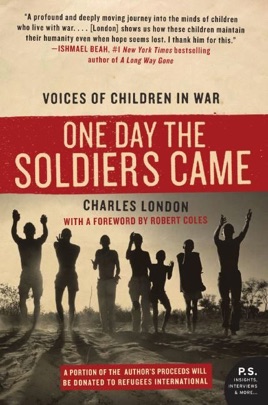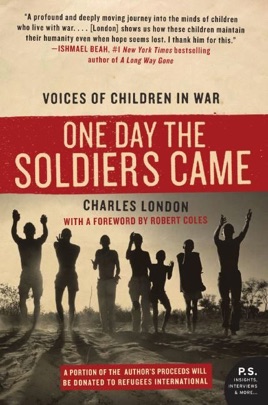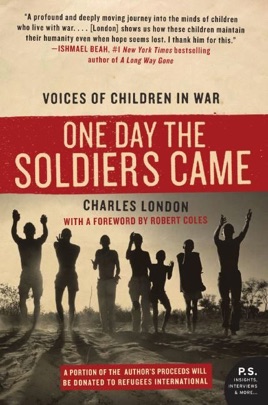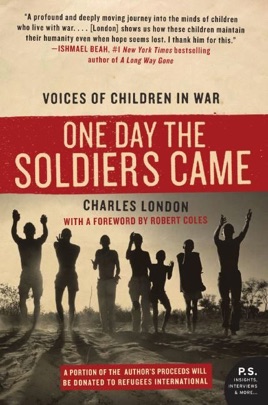 One Day the Soldiers Came
Voices of Children in War
Publisher Description
Today, in violence-torn regions across the globe, 20 million children have been uprooted, orphaned, or injured by war, famine, and poverty. This is their story . . . and ours.

In this powerful and unforgettable book—by turns painful, funny, terrifying, and triumphant—Charles London takes us into the world of refugee children, celebrating their unique skills for survival and reflection. Their remarkable stories and drawings chill the blood and touch the heart, offering an indelible, first hand portrait of the war that rages beyond the headlines.
PUBLISHERS WEEKLY
London, working with the nonprofit organization Refugees International, interviewed child soldiers and other young people affected by ethnic conflict in Africa, Burma and the Balkans to bring their plight to the attention of his fellow Americans. The narrative that emerges is a fine accomplishment, tying together the horrific stories of countless children against a merciless landscape of undersupplied refugee camps, belligerent authority figures and the constant threat of renewed violence. London tells of children forced into prostitution and military service, Burmese refugees unable to leave their dreary Bangkok apartments for fear of deportation and other tragic consequences of conflict; the stories are chilling and London is an able interviewer, getting children to open up by joining their soccer games and getting them to draw pictures. London began his project at age 21, and has a neophyte's penchant for self-regard and melodrama ("She is looking though her life, to some place else, some future bliss that is forever out of reach"); letting the stories speak for themselves would have bolstered their resonance. Regardless, this is a moving and important account of war's youngest victims in a region that too rarely enters the American consciousness.
More Books by Charles London
See All