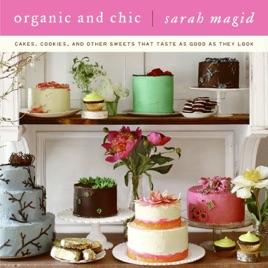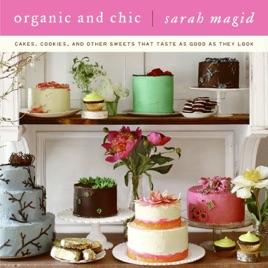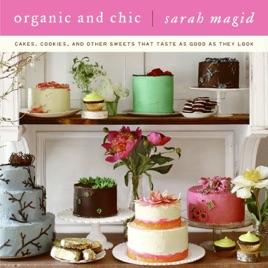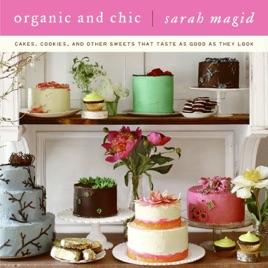 Organic and Chic
Cakes, Cookies, and Other Sweets That Taste as Good as They Look
Publisher Description
"When I bring one of my sweets into the room—whether at a wedding or an intimate dinner party—the expressions on people's faces turn that celebration into a memory I'll never forget. That's what baking should be."

Many people are coming to recognize the merits of eating organic ingredients, but the idea of "organic baked goods" may bring to mind food that is more boring than beautiful and delicious. But in Organic and Chic, custom cake baker Sarah Magid uses her background in jewelry and shoe design to create vibrantly colored, highly original, delicious organic cakes and other desserts that are perfect for all kinds of celebrations.

Filled with gorgeous photographs, Organic and Chic features recipes for delectable baked goods you'll be excited to re-create and serve to family and friends, from modern floral cakes and cupcakes to rustic farmer's-market sweets made with seasonal fruits:
Red Velvet Love Cake frosted with Vanilla Whipped Buttercream and garnished with edible flowers Vanilla-Bean Butter Cake filled with Sweet Chocolate Ganache and decorated with hand-sculpted butterflies Minty Strawberry Shortcakes, celebrating the bounty of the summer Goldies, a tasty tribute to America's favorite cream-filled sponge cake
Whether you're preparing some simple Double Ginger Cookies for a block party or bake sale, or experimenting with a rich and luscious dark chocolate birthday cake, you can be confident that you're serving desserts that are gorgeous and flavorful without resorting to fake, chemical-laden ingredients. Magid offers detailed step-by-step decorating instructions and enough inspiration to help even the most novice baker create bold cake-decorating effects, including eye-popping flowers, hand-sculpted leaves, and metallic-painted brushstrokes.

A must for every health-minded baker, this unique cookbook balances exquisite flavors, organic ingredients, and stunning visuals to help you create your own masterpieces.
PUBLISHERS WEEKLY
Throughout this otherwise lively new collection of wholesome, sophisticated baked goods, Magid uses the word "organic" like a cudgel-seemingly every ingredient is prefaced with the word. Though the term gets tiresome, Magid presents a measured argument for organic eggs, flours and sugars in her creations (though, puzzlingly, she has no problem with food coloring) as well as sourcing suggestions. In 60 recipes, Magid offers up crowd-pleasers like oatmeal raisin cookies and flourless chocolate almond cake, as well as homemade variations on childhood all-stars like Girl Scout Thin Mint cookies and Hostess Sno-balls. Grown-ups will swoon over her Lovely Lemon Cake with marshmallow frosting, Minty Strawberry Shortcakes and her Chocolate Love Blossom-a multilayer chocolate cake filled with vanilla whipped cream and/or a red currant curd, and covered with a rich ganache. Though the titles may sound ambitious, most recipes are more than manageable; Magid even includes an easy recipe for no-bake honey peanut dough to keep the kids busy.
Great decorating ideas and recipes
Don't let the organic part of the title slow you down. The recipes in this book are wonderful and easy. There are some especially great ones for kids, like real pudding and edible play dough! Her decoration ideas are also very pretty and unique. Though they are a bit more challenging, they seem doable by the slightly ambitious home baker. The basic recipes, which have become standards for me, balance out the more complicated decorating suggestions.