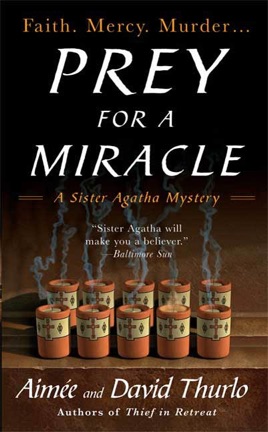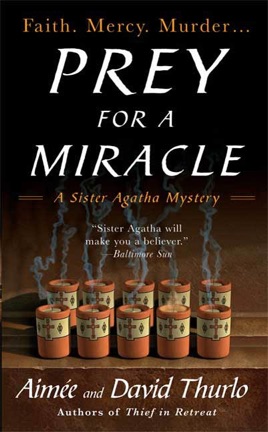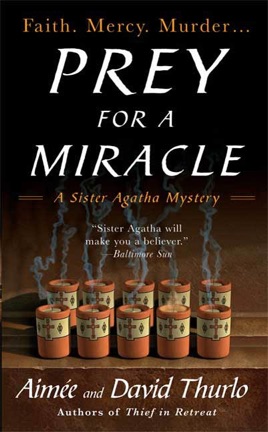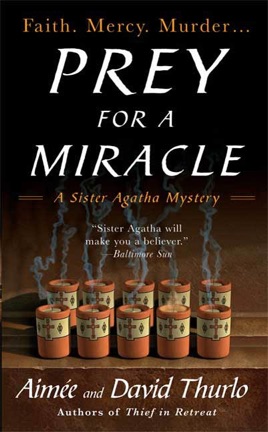 Prey for a Miracle
A Sister Agatha Mystery
Publisher Description
Sister Agatha is an extern nun in the cloistered order at the Our Lady of Hope Monastery near a small New Mexican desert town. As such, Sister Agatha is the link between her cloistered sisters and the outside world. Usually this means running errands in the monastery's slowly dying car (dubbed the Anti-Chrystler) or their motorcycle, with Pax, the order's German Shepard, in the side car. But sometimes it means something a bit more -- like now when the diocese is upset by reports of a young girl whose parents claim is receiving visitations from the Virgin Mary and providing insight into future events.
Wanting neither to ignore a real miracle, nor give credence to what might be merely an attempt to defraud the faithful, they ask Sister Agatha to investigate. But her inquires are soon complicated when the girl herself disappears, apparently having been kidnapped, and Sister Agatha will need more than faith to bring her home.
PUBLISHERS WEEKLY
In the Thurlos' charming but imperfect third cozy involving New Mexico's Our Lady of Hope Monastery (after 2004's Thief in Retreat), Sister Agatha is charged with looking after Natalie, an eight-year-old whose mother lies in a coma after a bad car wreck. Sister Agatha and her buddy, Sheriff Tom Green, suspect that the wreck was no accident someone is after Natalie and her mom. If protecting a precocious little girl isn't enough to manage, Sister Agatha is also burdened by her convent's financial problems. The order is short on cash and needs to replace the roof, a subplot actually more engaging than the somewhat thin mystery surrounding Natalie and her mom's stalker. Indeed, the Thurlos could have provided a more plausible lineup of suspects and a less predictable ending. Still, Sister Agatha, with her winsome ways and no-nonsense faith, is sure to delight readers.
More Books by Aimée Thurlo & David Thurlo
See All