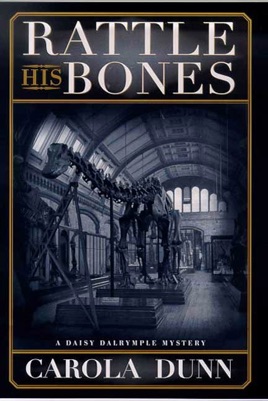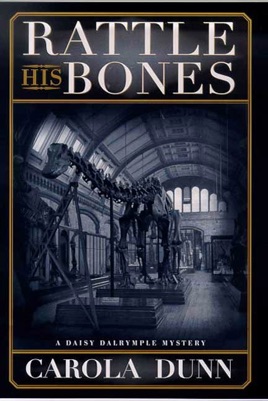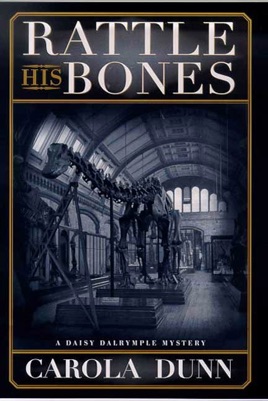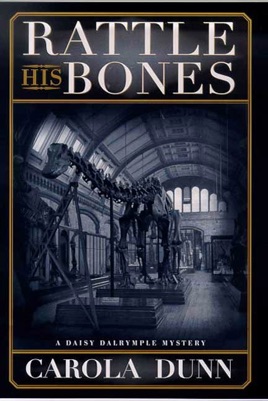 Rattle His Bones
A Daisy Dalrymple Mystery
Publisher Description
In the summer of 1923, the Honourable Daisy Dalrymple makes what should an uneventful research trip to the Museum of Natural History with her nephew Derek and her soon-to-be step-daughter Belinda in tow. But as she interviews the various curators for her article on the museums of London, she soon discovers that the Museum of Natural History is a hothouse of professional rivalry and jealousy, particularly between Dr. Smith Woodward, the Keeper of Geology - responsible for the fossil collection, and Dr. Pettigrew, the Keeper of Minerology - responsible for the Museum's fabulous gem collection. On a later trip, as closing time nears, Daisy hears two voices followed by a tremendous crash and rushes into the next hall to discover Dr. Pettigrew dead - murdered amidst a pile of dinosaur bones.

Daisy's fiance, Detective Chief Inspector Alec Fletcher of Scotland Yard, is assigned to investigate and together they must unravel a most baffling case of missing gems, dispossessed European royalty, professional rivalry and murder most foul.
PUBLISHERS WEEKLY
The Honourable Daisy Dalrymple brings her usual style and flair to this eighth installment, set in 1920s London, in Dunn's engagingly entertaining series (Murder on the Flying Scotsman; Styx and Bones; etc.). Titled but penniless, Daisy has forged a successful career as a freelance journalist. Her latest assignment, on the museums of London, sends her to that city's Natural History Museum, where she stumbles upon murder. The dead man, the extremely unpopular Dr. Pettigrew, Keeper of Mineralogy, had been heard violently arguing shortly before being found among pieces of a smashed dinosaur skeleton, his chest pierced by a shard of fossil bone. To complicate matters, Daisy learns that someone has replaced the entire museum gem collection with fakes. Murder and mayhem being right up her alley, Daisy determines to solve both mysteries as well as to research her article. Her long-suffering fianc , DCI Alec Fletcher of Scotland Yard, oversees the case, which is filled with every type of suspect from rival museum curators to Rudolf Maximilian, the dispossessed grand duke of Transcarpathia. The tale takes off a little slowly, but once murder occurs, the pace picks up. The satisfying climax comes, fittingly enough, on a foggy London evening. Dunn's witty prose shines in this lighthearted whodunit.