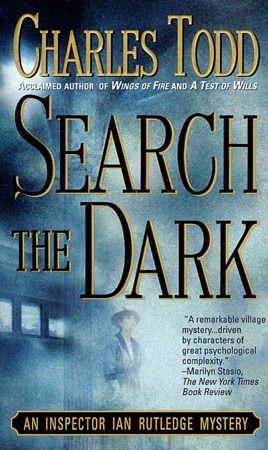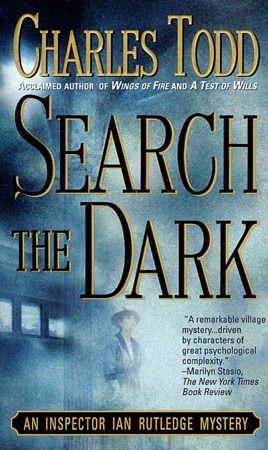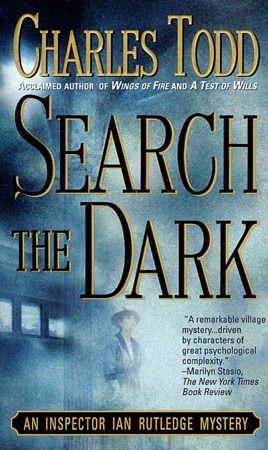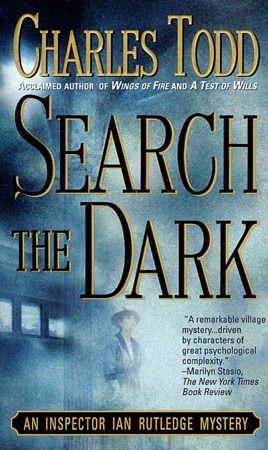 Search the Dark
An Inspector Ian Rutledge Mystery
Publisher Description
The introspective hero of Wings of Fire and A Test of Wills (Edgar Award nominee) returns in Search the Dark, a provocative new mystery by Charles Todd. Inspector Ian Rutledge, haunted by memories of World War I and the harrowing presence of Hamish, a dead soldier, is "a superb characterization of a man whose wounds have made him a stranger in his own land." (The New York Times Book Review)

A dead woman and two missing children bring Inspector Rutledge to the lovely Dorset town of Singleton Magna, where the truth lies buried with the dead. A tormented veteran whose family died in an enemy bombing is the chief suspect. Dubious, Rutledge presses on to find the real killer. And when another body is found in the rich Dorset earth, his quest reaches into the secret lives of villagers and Londoners whose privileged positions and private passions give them every reason to thwart him. Someone is protecting a murderer. And two children are out there, somewhere, in the dark....
PUBLISHERS WEEKLY
The third compelling Ian Rutledge mystery (Wings of Fire; A Test of Wills) takes the sensitive and appealing Scotland Yard inspector, a former WWI officer, to the countryside of Dorset. In 1919, another former soldier is arrested for murder in the town of Singleton Magna after the battered corpse of a young woman is found nearby. Withdrawn and suicidal, the suspect will speak to no one, and the police call Scotland Yard for help in finding the two young children who may have been in the dead woman's charge. Rutledge arrives, still carrying in his head the voice of Hamish MacLeod, a Scottish deserter whom he executed during the war and whose harsh, conscience-like presence in the inspector's mind seems to soften as the novel progresses, adding dimension to Todd's literary device. In his investigation, Rutledge encounters others whose spirits were ravaged in the war: Simon Wyatt, scion of local gentry, who has abandoned his plans to serve in Parliament; his French wife, unaccepted by the townspeople; Wyatt's former fianc e, who may not have given up her previous expectations; a young local man whose head wound has left him mentally diminished; and an independent young woman from London. The discovery of a second woman's battered corpse further knots Rutledge's task, which is rooted, it evolves in this fine period mystery, as much in love as in war. Author tour.