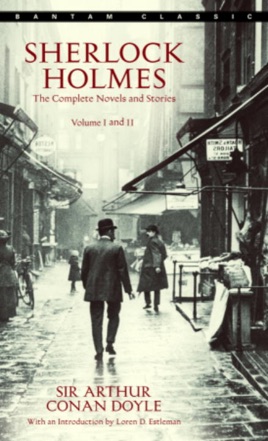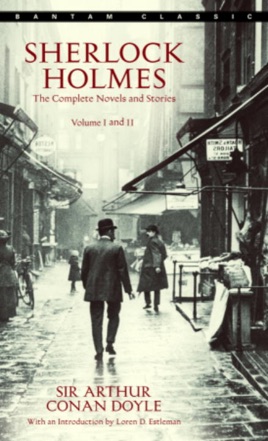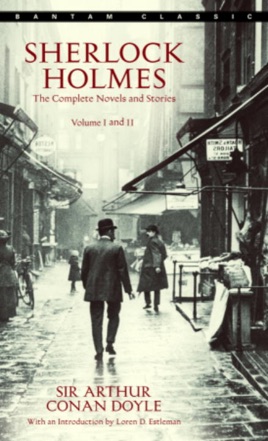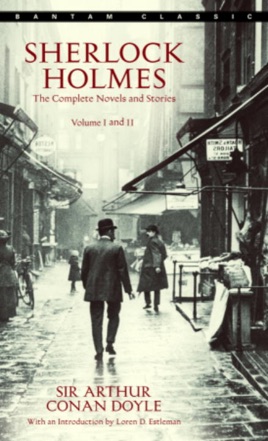 Sherlock Holmes: The Complete Novels and Stories: Volumes I and II
Publisher Description
Since his first appearance in Beeton's Christmas Annual in 1887, Sir Arthur Conan Doyle's Sherlock Holmes has been one of the most beloved fictional characters ever created. Now, in one eBook, Bantam Classics presents all fifty-six short stories and four novels featuring Conan Doyle's classic hero—a truly complete collection of Sherlock Holmes's adventures in crime!

Volume I includes the early novel A Study in Scarlet, which introduced the eccentric genius of Sherlock Holmes to the world. This baffling murder mystery, with the cryptic word Rache written in blood, first brought Holmes together with Dr. John Watson. Next, The Sign of Four presents Holmes's famous "seven percent solution" and the strange puzzle of Mary Morstan in the quintessential locked-room mystery. Also included are Holmes's feats of extraordinary deception in such famous cases as the chilling "The Adventure of the Speckled Band," the baffling riddle of "The Musgrave Ritual," and the ingeniously plotted "The Five Orange Pips."

Volume II begins with The Hound of Baskervilles, a haunting novel of murder on eerie Grimpen Moor, which has rightly earned its reputation as the finest murder mystery ever written. The Valley of Fear matches Holmes against his archenemy, the master of imaginative crime, Professor Moriarty. In addition, the loyal Dr. Watson has faithfully recorded Holmes's feats of extraordinary detection in such famous cases as the thrilling "The Adventure of the Red Circle," Holmes's tragic and fortunately premature farewell in "The Final Problem," and the twelve baffling adventures from The Case Book of Sherlock Holmes.

Conan Doyle's incomparable tales bring to life a Victorian England of horse-drawn cabs, fogs, and the famous lodgings at 221 B Baker Street, where for more than forty years Sherlock Holmes earned his undisputed reputation as the greatest fictional detective of all time.
This is the edition you want. . .
. . . and here's why:

1. A table of contents that works! Detailed and fully functional links take you where you want to go. An essential feature that, amazingly, is absent from some other e-editions.

2. Complete and well-formatted edition with full text searching that really works. A pleasure to navigate and read. All at a great price.

Caveat: no Sidney Paget illustrations. If that is a big deal for you, look elsewhere.

Bottom line - If you don't already know how great these stories are, there are lots of other reviewers who will tell you. The issue is not whether these stories are worth your time (they are) but which version you should buy. You want one that will help you enjoy the text rather than getting in your way. This edition fires on all cylinders.
Actually in order of publication...
...to me this was totally important & sooo worth $2.99!!
A steal!
In more ways than 1. Yeah you can get all these stories free since the rights ran out, so Apple's kinda ripping us off. But for the convenience AND the ordering and table of contents? Yes please.
More Books by Arthur Conan Doyle
See All