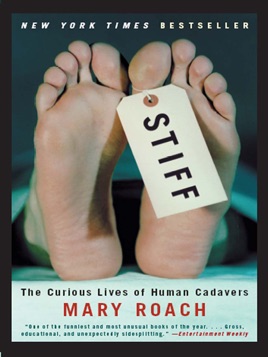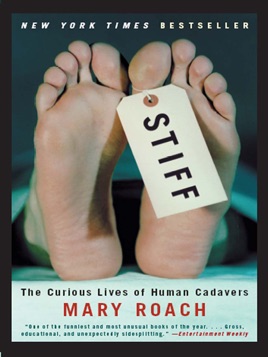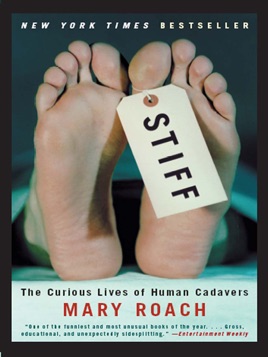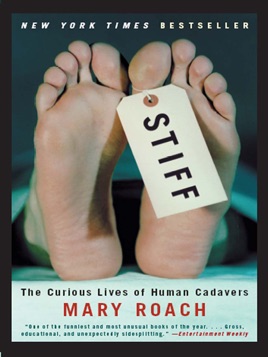 Stiff: The Curious Lives of Human Cadavers
Publisher Description
"One of the funniest and most unusual books of the year....Gross, educational, and unexpectedly sidesplitting."—Entertainment Weekly
Stiff is an oddly compelling, often hilarious exploration of the strange lives of our bodies postmortem. For two thousand years, cadavers—some willingly, some unwittingly—have been involved in science's boldest strides and weirdest undertakings. In this fascinating account, Mary Roach visits the good deeds of cadavers over the centuries and tells the engrossing story of our bodies when we are no longer with them.
PUBLISHERS WEEKLY
"Uproariously funny" doesn't seem a likely description for a book on cadavers. However, Roach, a Salon and Reader's Digest columnist, has done the nearly impossible and written a book as informative and respectful as it is irreverent and witty. From her opening lines ("The way I see it, being dead is not terribly far off from being on a cruise ship. Most of your time is spent lying on your back"), it is clear that she's taking a unique approach to issues surrounding death. Roach delves into the many productive uses to which cadavers have been put, from medical experimentation to applications in transportation safety research (in a chapter archly called "Dead Man Driving") to work by forensic scientists quantifying rates of decay under a wide array of bizarre circumstances. There are also chapters on cannibalism, including an aside on dumplings allegedly filled with human remains from a Chinese crematorium, methods of disposal (burial, cremation, composting) and "beating-heart" cadavers used in organ transplants. Roach has a fabulous eye and a wonderful voice as she describes such macabre situations as a plastic surgery seminar with doctors practicing face-lifts on decapitated human heads and her trip to China in search of the cannibalistic dumpling makers. Even Roach's digressions and footnotes are captivating, helping to make the book impossible to put down.
Very interesting read!
Read this in college and although it made me think twice about donating my organs to science it was quite intriguing.
Amazing
One of the funniest books I have read in a long time. The author knows how to take some touchy material and make it easy to read and somehow, not so morbid. The book does a great job of giving a full spectrum view of cadavers and all things that happen to then throughout the world and in science. You get a view of yow cadavers have been used throughout history and in the world today. A very easy read and and all around great book.
Favorite Book!!
I love this book and this author. The fact that she can take uncomfortable subject matter and make it interesting and humorous is a win! Her humor is sharp and witty!