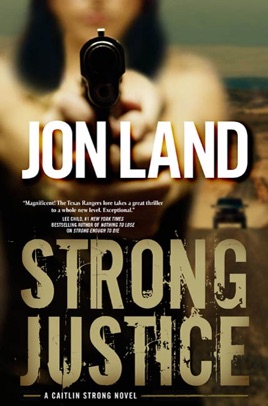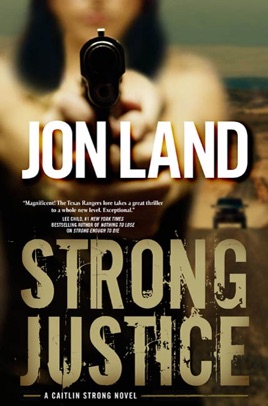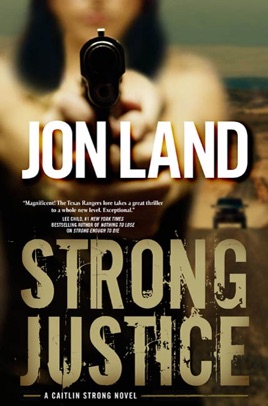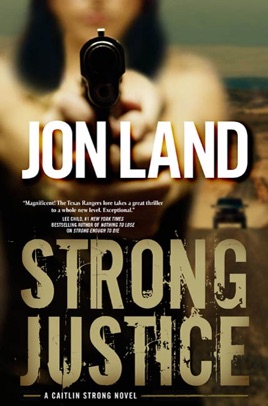 Strong Justice
A Caitlin Strong Novel
Publisher Description
Fifth-generation Texas Ranger Caitlin Strong is back, pursuing justice the Ranger way. She takes on the case of a Mexican girl on the run from white slavers. For Caitlin, the case evokes memories of her legendary grandfather's run with the Rangers, even as it brings her face-to-face with a serial killer who's left a trail of bodies along the Mexico border.

Pursuing the killer brings Caitlin to a sleepy Texas town suddenly riddled by violence and to the site of a major water find. The connection between these two disparate places lies buried beneath the plains of West Texas: a deadly weapon with the potential to give a new enemy the means to terrorize the United States.

Her grandfather's past collides violently with Caitlin's present as she fights to save her world in the same border town where he fought to save his. Caitlin will learn, just as he did, that only strong justice can save the day. But this time, outmanned and outgunned, even that may not be enough to keep Caitlin Strong—and the country itself—alive.

At the Publisher's request, this title is being sold without Digital Rights Management Software (DRM) applied.
PUBLISHERS WEEKLY
In Land's intense, skillfully plotted second thriller to feature formidable female Texas Ranger Caitlin Strong (after Strong Enough to Die), Caitlin pursues Macerio, a serial killer who's murdered more than 400 Mexican women since 1997 near the U.S. border. Meanwhile, Col. Renaldo Montoya, the commander of Mexico's renegade Zeta Special Forces, plots a guerrilla war against the U.S. that he believes will launch the 2012 "End Times" foreseen by the Mayans. Caitlin's also investigating Albion, Tex., where residents living close to where tycoon Hollis Tyree III is drilling for water are inexplicably going nuts. The action heats up after Caitlin rescues teen Maria Lopez and later other girls from being sold into prostitution or killed by Macerio. Luckily, boyfriend Cort Wesley Masters, a former Special Forces vet, is on hand to assist. Land reveals a surprising link between Caitlin and her grandfather, Earl Strong, also a Texas Ranger, as events hurtle to an explosively satisfying finale.