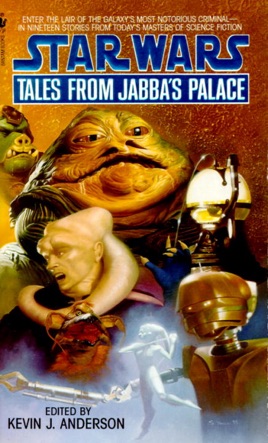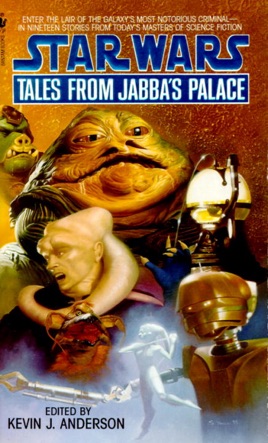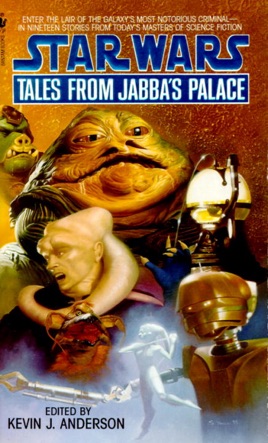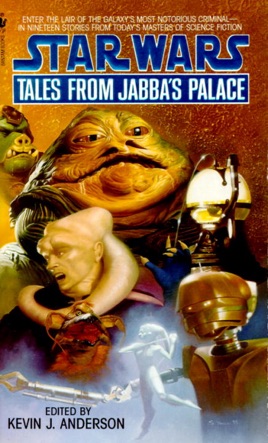 Tales from Jabba's Palace: Star Wars
Publisher Description
In the dusty heat of twin-sunned Tatooine lives the wealthiest gangster in a hundred worlds, master of a vast crime empire and keeper of a vicious, flesh-eating monster for entertainment (and disposal of his enemies). Bloated and sinister, Jabba the Hutt might have made a good joke -- if he weren't so dangerous. A cast of soldiers, spies, assassins, scoundrels, bounty hunters, and pleasure seekers have come to his palace, and every visitor to Jabba's grand abode has a story. Some of them may even live to tell it. . . .

Featuring original stories by: Kevin J. Anderson, M. Shayne Bell, John Gregory Betancourt, Mark Budz and Marina Fitch, A.C. Crispin, Dan'l Danehy-Oakes, George Alec Effinger, Kenneth C. Flint, Esther Friesner, Barbara Hambly, Daryl F. Mallett, J.D. Montgomery, Judy and Gar Reeves-Stevens, Jennifer Roberson, Kathy Tyers, Deborah Wheeler, Dave Wolverton, William F. Wu, Timothy Zahn. 

Features a bonus section following the novel that includes a primer on the Star Wars expanded universe, and over half a dozen excerpts from some of the most popular Star Wars books of the last thirty years!
Great Backstories
Star Wars Tales From Jabba's Palace is a great compilation of short stories from various authors. Kevin J. Anderson edits this book and does a good job of it. The stories take place at various times ranging from when life in the palace was normal to the time Luke Skywalker and his friends turned the place into an uproar. There are really good back stories for characters that are unmissable in Jabba's court and for those whom you see on screen in Star Wars VI for barley a moment. An altogether fun and entertaining novel that's pretty easy to read, thanks to it's being broken into nineteen stories.
More Books by Kevin J. Anderson
See All