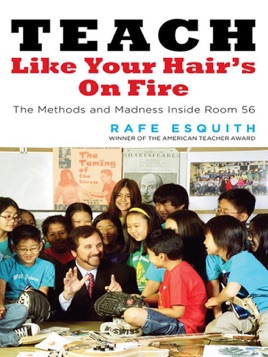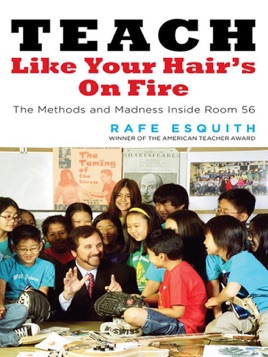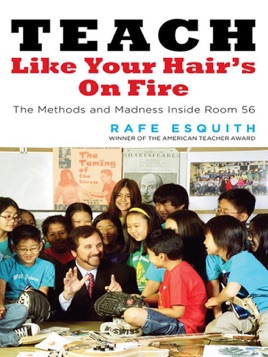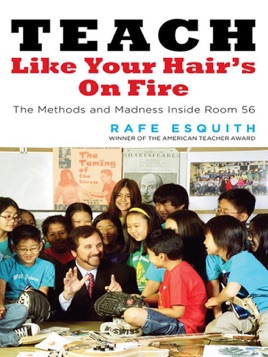 Teach Like Your Hair's on Fire
The Methods and Madness Inside Room 56
Publisher Description
Read Rafe Esquith's posts on the Penguin Blog.

From one of America's most celebrated educators, an inspiring guide to transforming every child's education

In a Los Angeles neighborhood plagued by guns, gangs, and drugs, there is an exceptional classroom known as Room 56. The fifth graders inside are first-generation immigrants who live in poverty and speak English as a second language. They also play Vivaldi, perform Shakespeare, score in the top 1 percent on standardized tests, and go on to attend Ivy League universities. Rafe Esquith is the teacher responsible for these accomplishments.
From the man whom The New York Times calls "a genius and a saint" comes a revelatory program for educating today's youth. In Teach Like Your Hair's on Fire!, Rafe Esquith reveals the techniques that have made him one of the most acclaimed educators of our time. The two mottoes in Esquith's classroom are "Be Nice, Work Hard," and "There Are No Shortcuts." His students voluntarily come to school at 6:30 in the morning and work until 5:00 in the afternoon. They learn to handle money responsibly, tackle algebra, and travel the country to study history. They pair Hamlet with rock and roll, and read the American classics. Teach Like Your Hair's on Fire! is a brilliant and inspiring road map for parents, teachers, and anyone who cares about the future success of our nation's children.
PUBLISHERS WEEKLY
Esquith might be the only public school teacher to be honored by both Oprah Winfrey and the Dalai Lama; he is the only school teacher ever to receive the president's National Medal of the Arts. For the past 25 years, Esquith has taught fifth graders at Hobart Elementary in central Los Angeles. Like most progressive educators, Esquith is outraged by the tyranny of testing, the scripting of teaching under "No Child Left Behind" and the overwhelming bureaucratization of the education industry. Still, he's done wonders with the basic curriculum developing a hands-on arts program, a money-management curriculum and a sports-based statistics unit. Esquith and his Hobart Shakespeareans are world famous for the rock opera they create every year. Throughout each school day, Esquith teaches life skills: how to think about problems, how to plan a strategy to solve them and, most important, how to work together and be nice to each other. While his goals are inspiring, he's also practical most chapters include affordable, how-to directions for a variety of his most effective classroom activities; he's even got a few tips for revamping those inescapable "test prep" sessions.
Samuel Bennett, Mississippi
,
Great book on making a difference!
This book will encourage you as an educator to take your students outside of the box and let them explore learning in a practical and whole new way. Students are like sponges and will take the challenge if they are pushed and encouraged. This is a great book on an educator who help you find the drive and passion to inspire your students for many years to come while they are on your class and the years to come in their lifetime. You will set a tone in your classroom that will be more than bulletin boards and create never ending memories of the fun of learning in your classroom. You will be inspired after reading this book!
Inspiring!
I was required to read a book on classroom management and I just happened to pick this one. I am so happy I did! What a great writer with such wonderful ideas. I am going to continue reading his other books!
M
Very inspirational! Would recommend to any teacher. Excellent for parents as well as teachers!