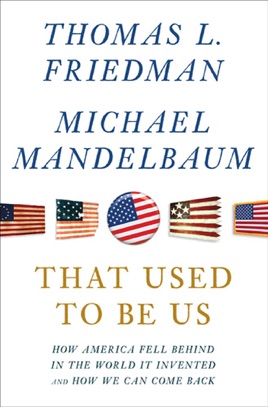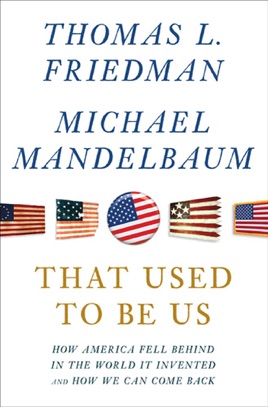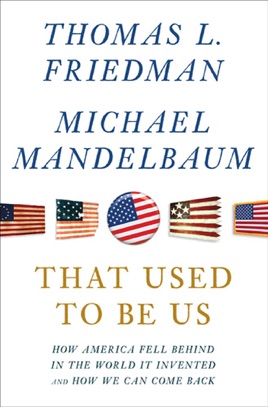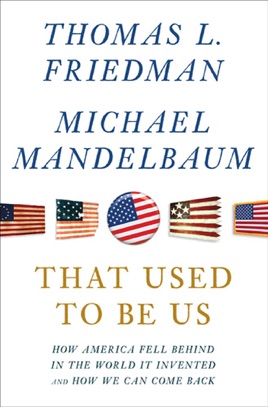 That Used to Be Us
How America Fell Behind in the World It Invented and How We Can Come Back
Publisher Description
America is in trouble. We face four major challenges on which our future depends, and we are failing to meet them—and if we delay any longer, soon it will be too late for us to pass along the American dream to future generations.
In That Used to Be Us, Thomas L. Friedman, one of our most influential columnists, and Michael Mandelbaum, one of our leading foreign policy thinkers, offer both a wake-up call and a call to collective action. They analyze the four challenges we face—globalization, the revolution in information technology, the nation's chronic deficits, and our pattern of excessive energy consumption—and spell out what we need to do now to sustain the American dream and preserve American power in the world. They explain how the end of the Cold War blinded the nation to the need to address these issues seriously, and how China's educational successes, industrial might, and technological prowess remind us of the ways in which "that used to be us." They explain how the paralysis of our political system and the erosion of key American values have made it impossible for us to carry out the policies the country urgently needs.
And yet Friedman and Mandelbaum believe that the recovery of American greatness is within reach. They show how America's history, when properly understood, offers a five-part formula for prosperity that will enable us to cope successfully with the challenges we face. They offer vivid profiles of individuals who have not lost sight of the American habits of bold thought and dramatic action. They propose a clear way out of the trap into which the country has fallen, a way that includes the rediscovery of some of our most vital traditions and the creation of a new thirdparty movement to galvanize the country.
That Used to Be Us is both a searching exploration of the American condition today and a rousing manifesto for American renewal.
PUBLISHERS WEEKLY
Reflecting on America's past greatness and its slipping position among global powers, Pulitzer-Prize winning New York Times columnist Friedman (The World is Flat) and foreign policy expert Mandelbaum (The Frugal Superpower) warn against the United States' "dangerous complacency" in the face of increasingly complex global challenges. They repeat a question first posed by Bill Gates ("What was all that good stuff we had that other people copied?") and prescribe a set of sensible government practices for prosperity: invest in public education and infrastructure, foster immigration and scientific research, and set up effective financial regulation. The rapid upheaval of the Arab Spring exemplifies the dynamism of today's intertwined world ("Flat World 2.0"), where ideas and innovation not goods or skills are an individual or country's top economic commodities. American workers must approach the global marketplace with creativity in order to remain globally competitive. To that end, they also support reigning in the national debt and committing to the use of alternative energy sources. Broad ranging in its anecdotes and research, conversational (if pedantic) in its tone, and hopeful in its patriotism, they look the challenges of the 21st century squarely in the eye.
That Used To Be Us
This book is an emotional roller coaster ride, providing many incites and possible solutions for the United States. I am left with a feeling of hopefulness after reading the book. I bought a copy for my school teacher son. The more people that read the book the greater the chance of getting our country back to the cutting edge of who we used to be.
That Used to Be Us
If you want answers to America's current problems it is all in this book.

An analysis of our current situation can be traced to our current political parties inability to move beyond petty bickering.

The political center must becoming radical.

Enter a third party candidate to shock the political system. I vote for Tom Friedman.
Bad
A terrible book. It wanders around with some solutions that are no better than a bunch of know it alls sitting around the kitchen table giving bad advice
More Books by Thomas L. Friedman & Michael Mandelbaum
See All