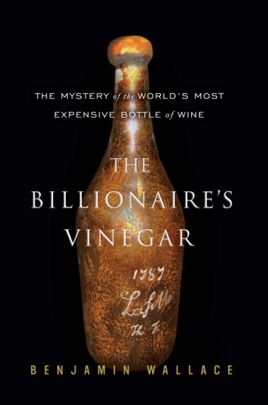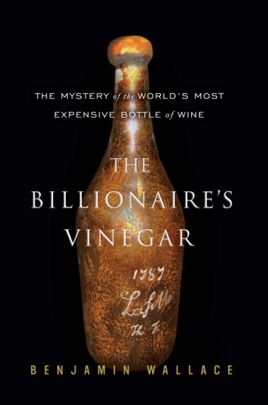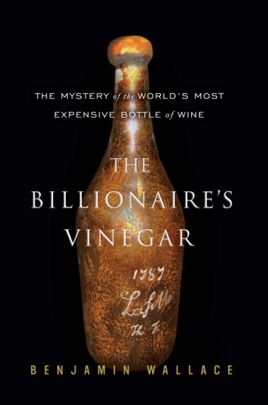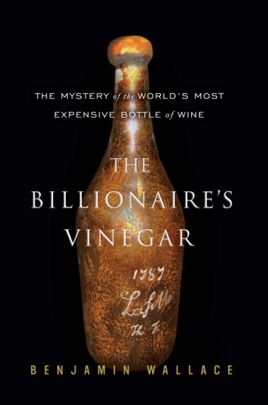 The Billionaire's Vinegar
The Mystery of the World's Most Expensive Bottle of Wine
Publisher Description
The rivetingly strange story of the world's most expensive bottle of wine, and the even stranger characters whose lives have intersected with it.

The New York Times bestseller, updated with a new epilogue, that tells the true story of a 1787 Château Lafite Bordeaux—supposedly owned by Thomas Jefferson—that sold for $156,000 at auction and of the eccentrics whose lives intersected with it.

Was it truly entombed in a Paris cellar for two hundred years? Or did it come from a secret Nazi bunker? Or from the moldy basement of a devilishly brilliant con artist? As Benjamin Wallace unravels the mystery, we meet a gallery of intriguing players—from the bicycle-riding British auctioneer who speaks of wines as if they are women to the obsessive wine collector who discovered the bottle.

Suspenseful and thrillingly strange, this is the vintage tale of what could be the most elaborate con since the Hitler diaries.

"Part detective story, part wine history, this is one juicy tale, even for those with no interest in the fruit of the vine. . . . As delicious as a true vintage Lafite." —BusinessWeek
PUBLISHERS WEEKLY
The titular bottle, from a cache of allegedly fine, allegedly French wine, allegedly owned by Thomas Jefferson in the 1780s, set a record price when auctioned in 1985. The subsequent brouhaha over the cache's authenticity takes wine journalist Wallace on a piquant journey into the mirage-like world of rare wines. At its center are Hardy Rodenstock, an enigmatic German collector with a suspicious knack for unearthing implausibly old and drinkable wines, and Michael Broadbent, a Christie's wine expert, who auctioned Rodenstock's lucrative finds. The argument over the Jefferson bottles and other rarities aged for decades, flummoxed a wine establishment desperate to keep the cork in a controversy that might deflate the market for antique vintages. (In the author's telling, a 2006 lawsuit almost settles the issue.) Wallace sips the story slowly, taking leisurely digressions into techniques for faking wine and detecting same with everything from Monticello scholarship to nuclear physics. He paints a colorful backdrop of eccentric oenophiles, decadent tastings and overripe flavor rhetoric (Broadbent describes one wine as redolent of chocolate and "schoolgirls' uniforms"). Investigating wines so old and rare they could taste like anything, he playfully questions the very foundations of connoisseurship.
Who knew wine was so exciting?
Great story, with a 'National Treasure' feel to it. With a cast of characters as diverse as the wines they drink, it's amazing that this is a true story!
More Books by Benjamin Wallace
See All