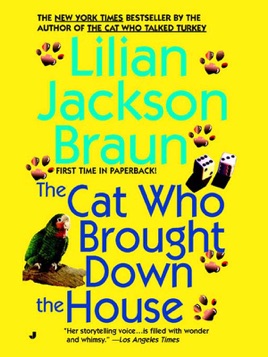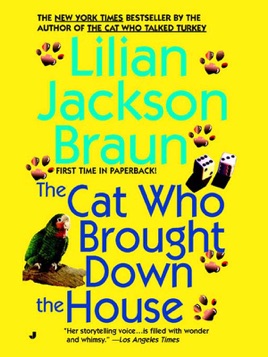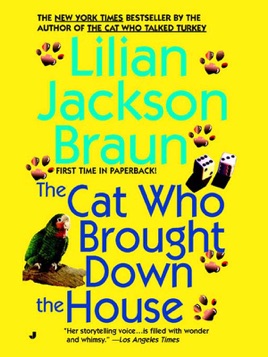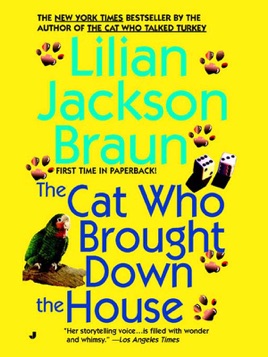 The Cat Who Brought Down The House
Publisher Description
Siamese cat Koko's stage debut is postponed when Jim Qwilleran suspects the feline's costar may be guilty of murder in this Cat Who mystery—the 25th in the New York Times bestselling series! 

Jim Qwilleran lives in Pickax, a small town 400 miles north of everywhere, and writes for a small newspaper. He stands tall and straight. He dates a librarian. His roommates are two abandoned cats that he adopted along the way, one of them quite remarkable. Qwilleran has a secret that he shares with no one—or hardly anyone. His male cat, Koko, has an uncanny intuition that can tell right from wrong and frequently sniffs out the evildoer... 

Retiring in Pickax, actress Thelma Thackeray has decided to start a film club and organize a fundraiser revue, starring Koko the cat. But Thelma's celebrated arrival takes an unpleasant turn when the strange circumstances of her twin brother's recent death seem suspicious to Jim Qwilleran. Qwill needs a helping paw in this case. But will Koko deign to take time from his stage debut?
PUBLISHERS WEEKLY
Lovers of bestseller Braun's irresistible Siamese cats, regal Koko and delicate Yum Yum, and their pet human, Jim Qwilleran, will need no further recommendation than the title for this 25th book in the series. (Remember The Cat Who Went Up the Creek?) The locale is the same, the town of Pickax in Moose County, 400 miles north of everywhere, with its peculiar, lovable citizens. Into this bucolic setting comes Thelma Thackeray, a native of Moose County, who, having achieved fame and fortune in Hollywood, is returning at age 82 to die. But first she intends to have some fun. Everyone is curious about the glamorous retiree, who also has purchased the long-vacant opera house downtown. Local historians recall that Thelma's twin brother, Thurston, had operated an animal hospital in neighboring Lockmaster until his tragic death from an accidental fall a year earlier. Now his son, Richard, has come to live with Thelma. When she decides to turn the opera house into a film club, Dick is offered the position of manager with startling results. The first public event in the renovated opera house is the Kit Kat Revue, a fund-raiser, whose finale is a procession of prominent citizens with their pets, all cats. Qwill and Koko are at the end of the line, and that's when Koko brings down the house. In her inimitable gentle style, Braun documents the daily activities of the inhabitants of Pickax. Kidnappings, robberies and murders may abound, but nothing is really upsetting or unpleasant. Braun devotees will cheer. FYI:Braun is also the author ofShort and Tall Tales: Moose County Legends Collected by James Mackintosh Qwilleran (Forecasts, Sept. 16).
More Books by Lilian Jackson Braun
See All