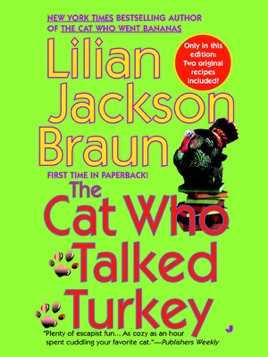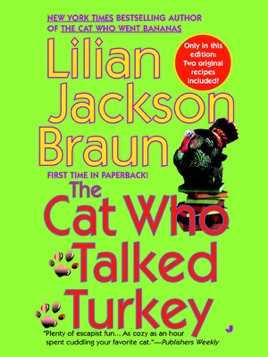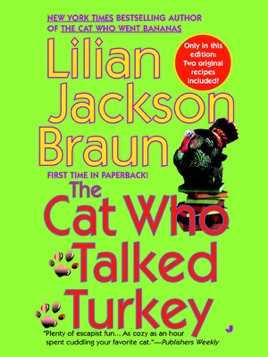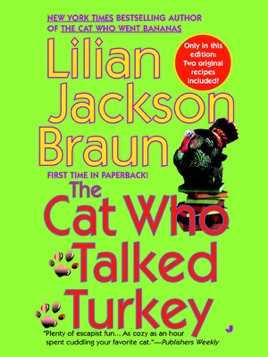 The Cat Who Talked Turkey
Publisher Description
When a body is found on Jim Qwilleran's property, he and his cats Koko and Yum Yum will have to determine who committed the fowl deed in this mystery in the bestselling Cat Who series...

The good people of Moose County are in a fever of excitement. It's almost time for the gala groundbreaking for the Pickax bookstore—and the town of Brrr is preparing for its bicentennial celebration. All the festivities, however, are spoiled by the discovery of a man's body on James Qwilleran's property. Could it be the work of the killer who used the same MO in northern Michigan? To solve the case, Qwill and his feline pals, Koko and Yum Yum, will have to prick up their ears to find the thankless killer...
PUBLISHERS WEEKLY
Like other recent books in Braun's best-selling series that began with The Cat Who Could Read Backwards (1966), this loosely plotted novel, the 26th to feature Siamese cats Koko and Yum Yum and Moose County journalist Jim Qwilleran, isn't quite up to the standard of earlier entries, but it still provides plenty of escapist fun. The shooting death of a well-dressed gentleman in the woods on Qwill's property is nearly neglected in the fuss and excitement engendered by the neighboring town of Brrr's bicentennial. On the trail of a story for the celebration, Qwill interviews Edythe Carroll, a wealthy widow who has retired to Ittibittiwassee Estates from the magnificent mansion she plans to leave to her granddaughter, Lish (short for Alicia). Little does Edythe know that Lish and her boyfriend, Lush, have already trashed the place. After dozing off in his gazebo after a busy day, Qwill is startled awake by strange noises, including some coming from Koko. Enter an entire family of wild turkeys. If this all sounds like a bit of a ramble, it's quite in keeping with the story, which wanders pleasantly around Moose County, surveying its eccentric citizens as they go about their idiosyncratic business. In spite of two murders and a pair of villains, the tale is as cozy as an hour spent cuddling your favorite cat. and two other story collections in the series.
Daffy Duck ( the wizard )
,
Amazing Book
It is an awesome book if you like mysteries
More Books by Lilian Jackson Braun
See All