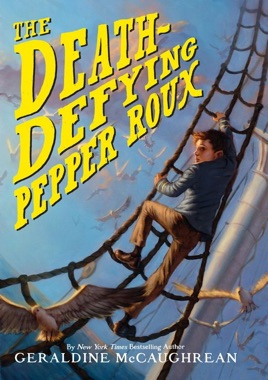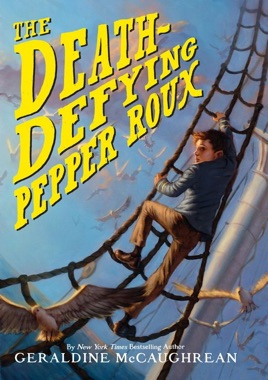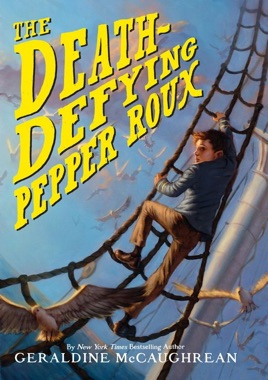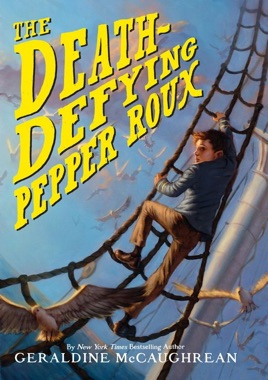 The Death-Defying Pepper Roux
Publisher Description
Pepper's fourteenth birthday is a momentous one.

It's the day he's supposed to die.

Everyone seems resigned to it—even Pepper, although he would much prefer to live. But can you sidestep Fate? Jump sideways into a different life? Naïve and trusting, Pepper sets a course through dangerous waters, inviting disaster and mayhem at every turn, one eye on the sky for fear of angels, one on the magnificent possibilities of being alive.

New York Times bestselling and Printz Award-winning author GeraldineMcCaughrean has created a gripping tale filled with dark humor and daringescapades, where the key to a boy's lifelies in facing his own death.

Join him on the run—if you can keep up.
PUBLISHERS WEEKLY
Kindhearted Pepper Roux has been led to believe that hildhood was a mouse trap from which he could never expect to escape, his death by age 14 foretold in a dream. His maiden Aunt Mireille takes it upon herself to pave Pepper's path to heaven with daily prayer, constant confession, and rote memorization of last rites. So when Pepper awakens on his 14th birthday still alive, he launches himself on a sea voyage, intent on outrunning death. Mistaken for the ship's captain (his father), he is befriended by a compassionate, cross-dressing steward, Duchesse. Creating vivid characters is just one of McCaughrean's (The White Darkness) gifts Aunt Mireille joins Dahl's Spiker and Sponge as one of the Most Evil Aunts in children's literature. Pepper flees across the French countryside from one disastrous job to another delivery boy, horse wrangler, deli clerk, and even journalist, which allows McCaughrean to wink at readers as Pepper complains, Copy editors cannot read anything without changing it. As his journey ends in a cleverly orchestrated climax, readers will root for Pepper to get the ending he deserves a happy one. Ages 10 up.
More Books by Geraldine McCaughrean
See All