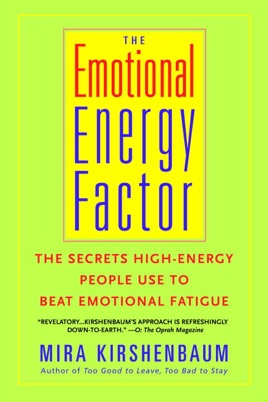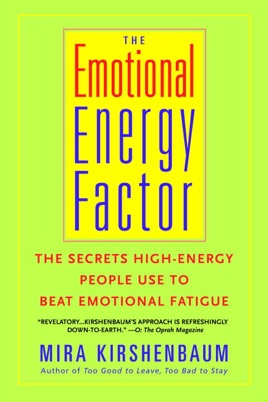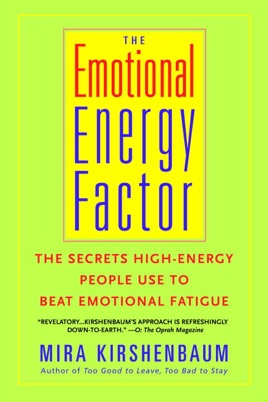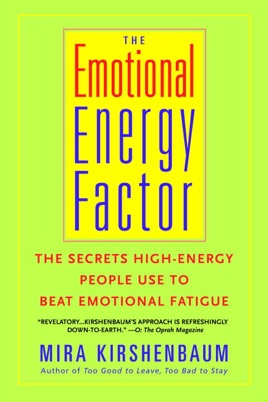 The Emotional Energy Factor
The Secrets High-Energy People Use to Beat Emotional Fatigue
Publisher Description
Do you wish you had more energy?
Do you often feel drained, even after a good night's sleep?
Are there days when you can't get going...when you just feel blah?

If so, you're not alone. You're suffering from emotional fatigue--an all too common outgrowth of our frenetic modern-day lives. But you can regain your emotional energy forever with this groundbreaking book from psychotherapist and bestselling author Mira Kirshenbaum that includes many helpful hints and informative real-life stories.

This book shows you how to tap into the sources of emotional energy that already lie within you. In these remarkable pages, you'll discover 25 practical, no-nonsense secrets to living the vital, happy, hope-filled life you deserve by building the kind of energy no pills, push-ups, or power bars can provide...the kind of energy that comes to the rescue when your body has reached its limits. It's called emotional energy. Successful, high-energy people have learned to harness it--and now you can too with their secrets in this powerful, life-enhancing book.

Drawing on nearly three decades of professional experience as a psychotherapist and researcher, Mira Kirshenbaum has developed a bold new program to help you raise your inner energy quotient and keep it high for life. The results are astounding: an aliveness of mind, happiness of heart, and a spirit filled with hope--the fuel that makes all things possible. Now you can reclaim the energy within, the energy that drives and sustains you, as you discover:

• How to diagnose your own emotional fatigue
• The power of active prayer
• Two simple things you can do to turn a pressure situation into one that gives you emotional energy
• Positive Negatives: how to say no to the things you don't want to do
• How to live your life your way--a giant step to emotional well-being
• The Appointment Book Cure to free up time and get things done
• How to stop buying into someone else's expectations of you
• The Emotional Energy Diet: how to lose those extra pounds and keep them off
• PLUS many more tips, tools, and techniques for you to get more emotional energy today!

"The single biggest difference between people who get what they want and people who don't is energy," states author Mira Kirshenbaum. With energy, everything is possible. This book shows you how to harness it in order to accomplish more, struggle less, feel more energetic, and find the zest--and courage--you need to live the life of your dreams.
PUBLISHERS WEEKLY
Emotional energy is "an aliveness of the mind, a happiness of the heart, and a spirit filled with hope"-and unfortunately, it's not always easy to come by. When we feel grouchy and lethargic, when we drag our heels through life and avoid treating ourselves to things we enjoy, then, writes psychotherapistKirshenbaum, we're likely suffering from emotional fatigue. And we're hardly alone: according to the National Institutes of Health, one individual in eight becomes saddled with a stubborn case of the blahs. In this upbeat and consumer-friendly how-to, the author of Too Good to Leave, Too Bad to Stay strives to shrink that stat. By sharing real-life anecdotes and posing pointed questions-"Do you live in fear of other people's judgments?"; "Do you frequently compare yourself to others and feel resentful?"-Kirshenbaum helps readers identify the roots of their lethargy, and implement the appropriate strategies for regaining their spunk. Her solutions are straightforward (and perhaps easier said than done): Stop the negative thinking; focus on the positive. Envision yourself with pep; invest in what you can control. Like all self-help books, this volume should not be treated as a magical elixir, and Kirshenbaum is careful to advise readers whose fatigue may be associated with psychological or physical illness to seek professional help. But it may be enough to lift readers out of the doldrums, which makes the going worthwhile.
More Books by Mira Kirshenbaum
See All