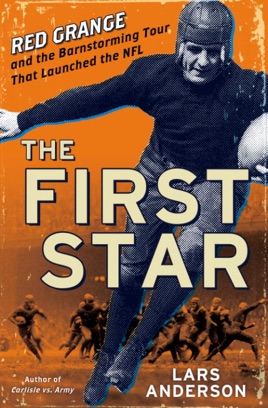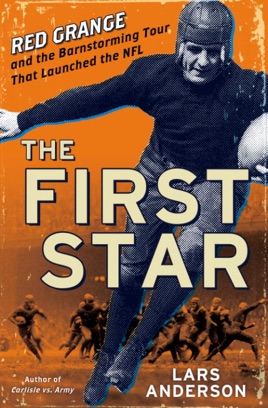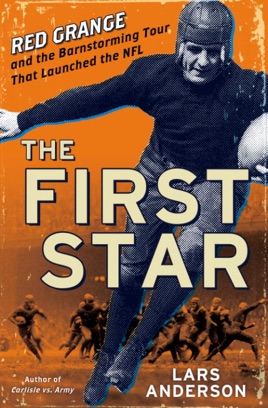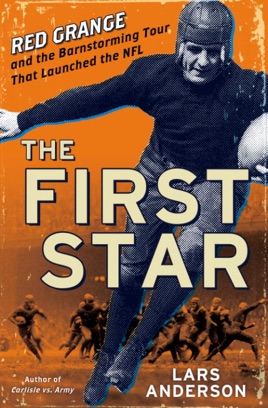 The First Star
Red Grange and the Barnstorming Tour That Launched the NFL
Publisher Description
In The First Star, acclaimed sports writer Lars Anderson recounts the thrilling story of Harold "Red" Grange, the Galloping Ghost of the gridiron, and the wild barnstorming tour that earned professional football a place in the American sporting firmament.

Red Grange's on-field exploits at the University of Illinois, so vividly depicted in print by the likes of Grantland Rice and Damon Runyan, had already earned him a stature equal to that of Babe Ruth, Jack Dempsey, and other titans of American sports' golden age. Then, in November 1925, Grange made the fateful decision to parlay his fame in pro ball, at the time regarded as inferior to the "purer" college game.

Grange signed on with the dapper theater impresario and promoter C. C. Pyle, who had courted him with the promise of instant wealth and fame. Teaming with George Halas, the hard-nosed entrepreneurial boss of the cash-strapped Chicago Bears NFL franchise, Pyle and Grange crafted an audacious plan: a series of seventeen matches against pro teams and college "all-star" squads–an entire season's worth of games crammed into six punishing weeks that would forever change sports in America.

With an unerring eye, Anderson evocatively captures the full scope of this frenetic Jazz Age spectacle. Night after night, the Bears squared off against a galaxy of legends–Jim Thorpe, George "Wildcat" Wilson, the "Four Horsemen of Notre Dame": Stuhldreher, Crowley, Miller, and Layden–while entertaining immense crowds. Grange's name alone could cause makeshift stadiums to rise overnight, as occurred in Coral Gables, Florida, for a Bears game against a squad of college stars. Facing constant physical punishment and nonstop attention from autograph hounds, gamblers, showgirls, and headhunting defensive backs, Grange nevertheless thrilled audiences with epic scoring runs and late-game heroics.

Grange's tour alone did not account for the rise of the NFL, but in bringing star power to fans nationwide, Grange set the pro game on a course for dominance. A real-life story chock-full of timeless athletic feats and overnight fortunes, of speakeasies and public spectacles, The First Star is both an engrossing sports yarn and a meticulous cultural narrative of America in the age of Gatsby.
PUBLISHERS WEEKLY
A year after Gary Andrew Poole's full-scale Red Grange biography (The Galloping Ghost), Sports Illustrated reporter Anderson (The All-Americans) focuses on Grange's decision, at the height of his popularity as a college football star, to drop out of school and sign with the Chicago Bears in 1925 who, to capitalize on his fame, lined up 10 games in 18 days so fans in seven cities could see him in action (and that was just the first leg of their national tour). It's a great story, but Anderson has trouble staying out of its way; he continually oversells in an effort to persuade readers for whom Grange is an unfamiliar name that he was as big as Babe Ruth or Jack Dempsey. The effort is unnecessary: the significance of Grange's status as a wholesome star athlete entering the "unseemly" world of the fledgling NFL speaks for itself, as does the amazing success of his manager's efforts to cash in on Grange's fame. (Between the Bears and various endorsement deals, they made roughly $500,000 in two months over $6 million in today's dollars.) At times, the account feels like a solid magazine piece that's been stretched thin, reducing a genuinely transformative moment in sports history to an episodic highlight reel.
Every Bear Fan should own this!
Great book! For anybody who loves the Bears or the history of football.
More Books by Lars Anderson
See All