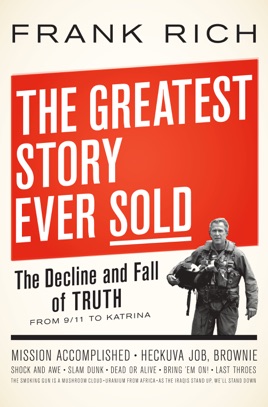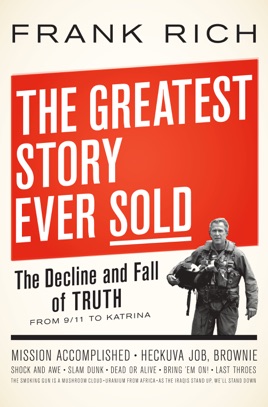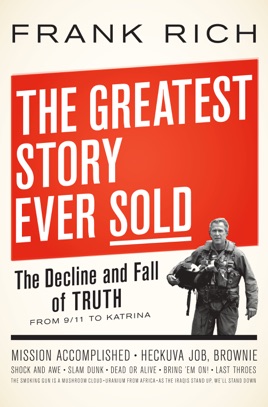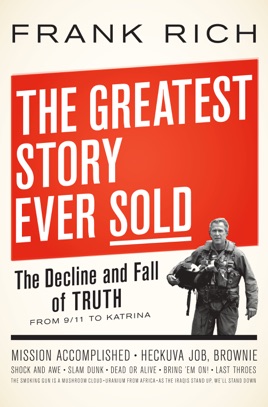 The Greatest Story Ever Sold
The Decline and Fall of Truth in Bush's America
Publisher Description
When America was attacked on 9/11, its citizens almost unanimously rallied behind its new, untested president as he went to war. What they didn't know at the time was that the Bush administration's highest priority was not to vanquish Al Qaeda but to consolidate its own power at any cost. It was a mission that could be accomplished only by a propaganda presidency in which reality was steadily replaced by a scenario of the White House's own invention—and such was that scenario's devious brilliance that it fashioned a second war against an enemy that did not attack America on 9/11, intimidated the Democrats into incoherence and impotence, and turned a presidential election into an irrelevant referendum on macho imagery and same-sex marriage.
As only he can, acclaimed New York Times columnist Frank Rich delivers a step-by-step chronicle of how skillfully the White House built its house of cards and how the institutions that should have exposed these fictions, the mainstream news media, were too often left powerless by the administration's relentless attack machine, their own post-9/11 timidity, and an unending parade of self-inflicted scandals (typified by those at The New York Times). Demonstrating the candor and conviction that have made him one of our most trusted and incisive public voices, Rich brilliantly and meticulously illuminates the White House's disturbing love affair with "truthiness," and the ways in which a bungled war, a seemingly obscure Washington leak, and a devastating hurricane at long last revealed the man-behind-the-curtain and the story that had so effectively been sold to the nation, as god-given patriotic fact.
PUBLISHERS WEEKLY
This blistering j'accuse has vitriol to spare for George Bush calling him a "spoiled brat" and "blowhard" and his policies, but its main target is the PR machinery that promoted those policies to the American people. New York Times columnist Rich revisits nearly every Bush administration publicity gambit, including Iraqi WMD claims, Bush's "Mission Accomplished" triumph, the Swift-boating of John Kerry and the writing of fake prowar letters-to-the-editor from soldiers. He uncovers nothing new, but his meticulously researched recap-cum-debunking complete with appended 80-page time line comparing administration spin to actual events builds a comprehensive picture of a White House propaganda campaign to bamboozle the public, smear critics, camouflage policy disasters and win the 2002 and 2004 elections through trumped-up security anxieties. Along the way, he pillories a sycophantic media (Bob Woodward gets spanked hard), spineless Democrats and an infotainment culture that happily accommodates the Bush administration's erasure of the line between reality and fiction. Sometimes Rich's critique of Republican politics as cynical image-manipulation goes overboard, as in his "wag the dog" theory of the Iraq war as a Karl Rove electoral maneuver; more often, though, it's on target. The result is a caustic, hard-hitting indictment of the Bush administration, timed to make a splash in the upcoming election campaign.
Fascinating
Learned a lot. Thank you!
More Books by Frank Kelly Rich
See All