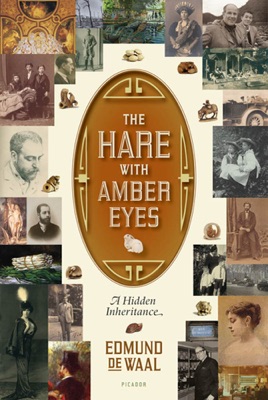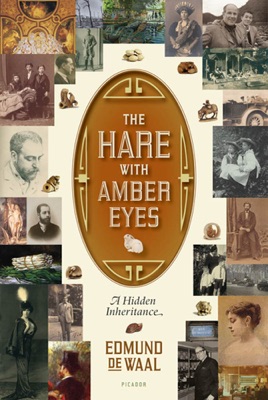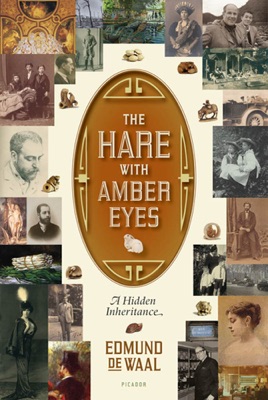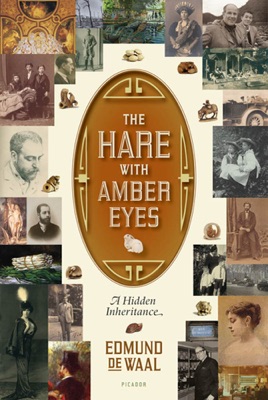 The Hare with Amber Eyes
A Family's Century of Art and Loss
Publisher Description
The Ephrussis were a grand banking family, as rich and respected as the Rothschilds, who "burned like a comet" in nineteenth-century Paris and Vienna society. Yet by the end of World War II, almost the only thing remaining of their vast empire was a collection of 264 wood and ivory carvings, none of them larger than a matchbox.

The renowned ceramicist Edmund de Waal became the fifth generation to inherit this small and exquisite collection of netsuke. Entranced by their beauty and mystery, he determined to trace the story of his family through the story of the collection.

The netsuke—drunken monks, almost-ripe plums, snarling tigers—were gathered by Charles Ephrussi at the height of the Parisian rage for all things Japanese. Charles had shunned the place set aside for him in the family business to make a study of art, and of beautiful living. An early supporter of the Impressionists, he appears, oddly formal in a top hat, in Renoir's Luncheon of the Boating Party. Marcel Proust studied Charles closely enough to use him as a model for the aesthete and lover Swann in Remembrance of Things Past.

Charles gave the carvings as a wedding gift to his cousin Viktor in Vienna; his children were allowed to play with one netsuke each while they watched their mother, the Baroness Emmy, dress for ball after ball. Her older daughter grew up to disdain fashionable society. Longing to write, she struck up a correspondence with Rilke, who encouraged her in her poetry.

The Anschluss changed their world beyond recognition. Ephrussi and his cosmopolitan family were imprisoned or scattered, and Hitler's theorist on the "Jewish question" appropriated their magnificent palace on the Ringstrasse. A library of priceless books and a collection of Old Master paintings were confiscated by the Nazis. But the netsuke were smuggled away by a loyal maid, Anna, and hidden in her straw mattress. Years after the war, she would find a way to return them to the family she'd served even in their exile.

In The Hare with Amber Eyes, Edmund de Waal unfolds the story of a remarkable family and a tumultuous century. Sweeping yet intimate, it is a highly original meditation on art, history, and family, as elegant and precise as the netsuke themselves.
PUBLISHERS WEEKLY
In this family history, de Waal, a potter and curator of ceramics at the Victoria & Albert Museum, describes the experiences of his family, the Ephrussis, during the turmoil of the 20th century. Grain merchants in Odessa, various family members migrated to Vienna and Paris, becoming successful bankers. Secular Jews, they sought assimilation in a period of virulent anti-Semitism. In Paris, Charles Ephrussi purchased a large collection of Japanese netsuke, tiny hand-carved figures including a hare with amber eyes. The collection passed to Viktor Ephrussi in Vienna and became the family's greatest legacy. Loyal citizens of the Austro-Hungarian Empire, the Vienna Ephrussis were devastated by the outcome of WWI and were later driven from their home by the imposition of Nazi rule over Austria. After WWII, they discovered that their maid, Anna, had preserved the netsuke collection, which Ignace Ephrussi inherited, and he settled in postwar Japan. Today, the netsuke reside with de Waal (descended from the family's Vienna branch) and serve as the embodiment of his family history. A somewhat rambling narrative with special appeal to art historians, this account is nonetheless rich in drama and valuable anecdote. 20 b&w illus.
Brilliant
From beginning to end, a truly spellbinding book. Brilliantly written! Full of emotion! I could not put the book down!
Really Interesting
Since the author inherited the netsuke collection and some family history you might expect this book to be good. Add to that all the research he did and the wonderful writing skills and you've got a great and fun to read book. Like three degrees of separation from a ton of very famous people.
An Elegant Sojourn
How reassuring for some of us for de Waal to confirm the importance of collecting things over time for the glue those collections provide a family's many generations.

"Hare..." is an elegantly composed paeon to collecting and an elegiac memoir of a spectacularly Successful 19th century Jewish
Family, its dissolution through Nazism, and its ultimate resurrection.

Written in brilliant prose " Hare..." describes an aesthetic that will capture you throughout. And, Its
descriptions of the Anschluss are unique.
More Books by Edmund de Waal
See All