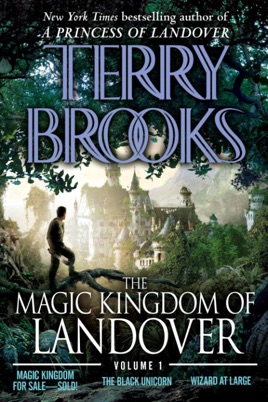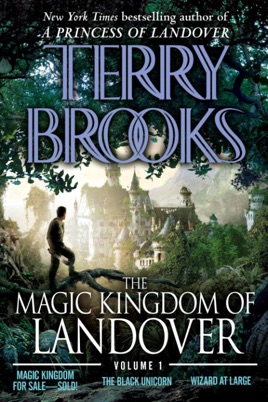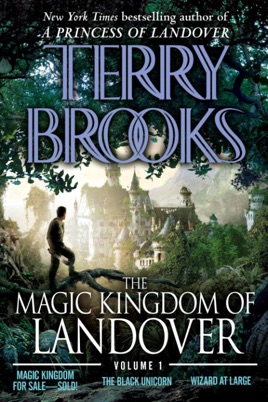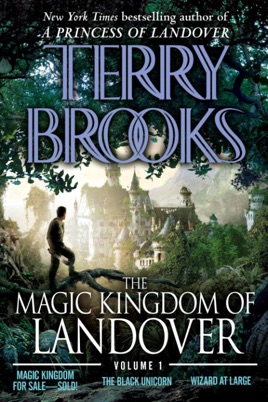 The Magic Kingdom of Landover Volume 1
Magic Kingdom For Sale SOLD! - The Black Unicorn - Wizard at Large
Publisher Description
Capture the fantasy, thrills, and far-flung adventure of the first three novels in Terry Brooks's enchanting Magic Kingdom of Landover series—now for the first time in one gripping volume.

Chicago lawyer Ben Holiday can't fathom what lies ahead when he purchases Landover—a magical kingdom of chivalry and sorcery—from Meeks, the mysterious seller who placed the ad. Weary and jaded, Ben clings to the ad's promise: "Escape into your dreams." But Landover is not the enchanted idyll he expected.

The kingdom is in ruin. The barons refuse to recognize Ben as King, a dragon is decimating the countryside, and a demon lord has challenged any prospective ruler to a fatal duel. To make matters worse, the Paladin, renowned champion of the Kings of Landover, seems to be merely a legend.

Ben's only allies are a bumbling court magician, a talking dog turned court scribe, and the beautiful Willow, who is part girl, part tree. With his friends in tow, Ben sets out to claim the throne. But when Meeks decides he wants Landover back, Ben will face supernatural foes of every stripe to prove himself worthy of the kingship. The question is: Can he survive?
Best Series ever
I first read this book when I was 10 years old and it has been one of my favorite series ever since. Terry Brooks does a phenomenal job describing the scenes and making you feel like you're actually there. Each character becomes a part of you and become engrossed in their story. I now make it a tradition to read the series each year as I am not willing to let go of the magic that is Landover.
The Magic Kingdom of Landover
In my opinion this series is one of Terry Brooks best works. He takes the impossible and makes it seem possible. He hooks you in 10 pages and you cant put it down after that. Great read!
A Captivating Story
As a fan of the fantasy genre I'm always looking for something new to read. I especially like a long series since it allows me to get to know the characters really well; they feel like friends by the time I finish the last book. So when I finished the fifth and final book in The Inheritance Series by Christopher Paolini I was feeling a bit sad at having to say good- bye to Eragon, Saphira, and the rest of the characters. That's why I started reading the author's acknowledgments and how I discovered Terry Brooks' series, The Magic Kingdom of Landover. Christopher Paolini suggests the series to his readers who are looking for something to read so I decided to give it a chance and I'm very glad I did. Brooks has created a wonderful, magical world that is captivating in every way. I love the way he writes and the stories he tells. I would recommend The Magic Kingdom of Landover to anyone who enjoys a good fantasy series.