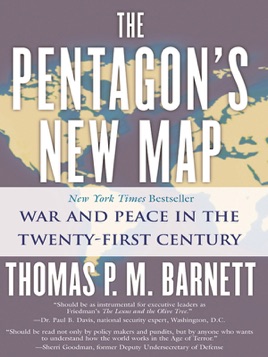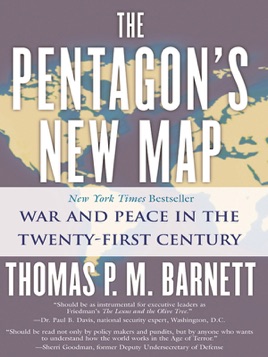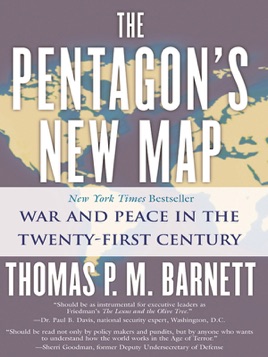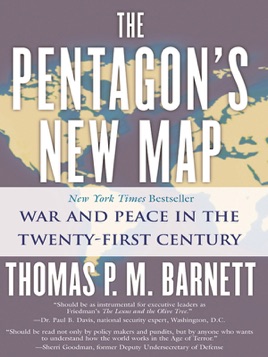 The Pentagon's New Map
War and Peace in the Twenty-First Century
Publisher Description
Since the end of the Cold War, America's national security establishment has been searching for a new operating theory to explain how this seemingly "chaotic" world actually works. Gone is the clash of blocs, but replaced by what?

Thomas Barnett has the answers. A senior military analyst with the U.S. Naval War College, he has given a constant stream of briefings over the past few years, and particularly since 9/11, to the highest of high-level civilian and military policymakers-and now he gives it to you. The Pentagon's New Map is a cutting-edge approach to globalization that combines security, economic, political, and cultural factors to do no less than predict and explain the nature of war and peace in the twenty-first century.

Building on the works of Friedman, Huntington, and Fukuyama, and then taking a leap beyond, Barnett crystallizes recent American military history and strategy, sets the parameters for where our forces will likely be headed in the future, outlines the unique role that America can and will play in establishing international stability-and provides much-needed hope at a crucial yet uncertain time in world history.

For anyone seeking to understand the Iraqs, Afghanistans, and Liberias of the present and future, the intimate new links between foreign policy and national security, and the operational realities of the world as it exists today, The Pentagon's New Map is a template, a Rosetta stone. Agree with it, disagree with it, argue with it-there is no book more essential for 2004 and beyond.
PUBLISHERS WEEKLY
Barnett, professor at the U.S. Naval War College, takes a global perspective that integrates political, economic and military elements in a model for the post September 11 world. Barnett argues that terrorism and globalization have combined to end the great-power model of war that has developed over 400 years, since the Thirty Years War. Instead, he divides the world along binary lines. An increasingly expanding "Functioning Core" of economically developed, politically stable states integrated into global systems is juxtaposed to a "Non-Integrating Gap," the most likely source of threats to U.S. and international security. The "gap" incorporates Andean South America, the Caribbean, sub-Saharan Africa, the Middle East, Central Asia and much of southwest Asia. According to Barnett, these regions are dangerous because they are not yet integrated into globalism's "core." Until that process is complete, they will continue to lash out. Barnett calls for a division of the U.S. armed forces into two separate parts. One will be a quick-strike military, focused on suppressing hostile governments and nongovernment entities. The other will be administratively oriented and assume responsibility for facilitating the transition of "gap" systems into the "core." Barnett takes pains to deny that implementing the new policy will establish America either as a global policeman or an imperial power. Instead, he says the policy reflects that the U.S. is the source of, and model for, globalization. We cannot, he argues, abandon our creation without risking chaos. Barnett writes well, and one of the book's most compelling aspects is its description of the negotiating, infighting and backbiting required to get a hearing for unconventional ideas in the national security establishment. Unfortunately, marketing the concepts generates a certain tunnel vision. In particular, Barnett, like his intellectual models Thomas Friedman and Francis Fukuyama, tends to accept the universality of rational-actor models constructed on Western lines. There is little room in Barnett's structures for the apocalyptic religious enthusiasm that has been contemporary terrorism's driving wheel and that to date has been indifferent to economic and political factors. That makes his analytical structure incomplete and more useful as an intellectual exercise than as the guide to policy described in the book's promotional literature. 100,000 first printing.
More Books by Thomas P.M. Barnett
See All