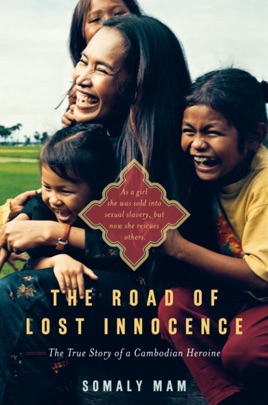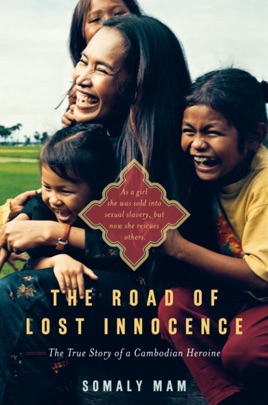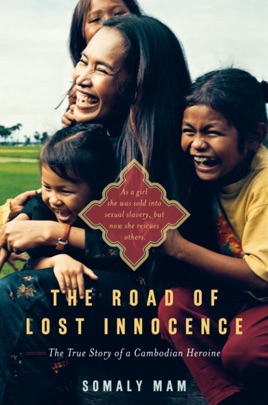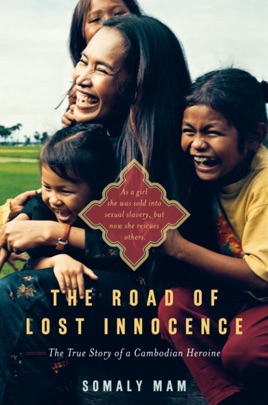 The Road of Lost Innocence
As a girl she was sold into sexual slavery, but now she rescues others. The story of a Cambodian heroine.
Publisher Description
A portion of the proceeds of this book will be donated to the Somaly Mam Foundation.

A riveting, raw, and beautiful memoir of tragedy and hope

Born in a village deep in the Cambodian forest, Somaly Mam was sold into sexual slavery by her grandfather when she was twelve years old. For the next decade she was shuttled through the brothels that make up the sprawling sex trade of Southeast Asia. Trapped in this dangerous and desperate world, she suffered the brutality and horrors of human trafficking—rape, torture, deprivation—until she managed to escape with the help of a French aid worker. Emboldened by her newfound freedom, education, and security, Somaly blossomed but remained haunted by the girls in the brothels she left behind.
Written in exquisite, spare, unflinching prose, The Road of Lost Innocence recounts the experiences of her early life and tells the story of her awakening as an activist and her harrowing and brave fight against the powerful and corrupt forces that steal the lives of these girls. She has orchestrated raids on brothels and rescued sex workers, some as young as five and six; she has built shelters, started schools, and founded an organization that has so far saved more than four thousand women and children in Cambodia, Thailand, Vietnam, and Laos. Her memoir will leave you awestruck by her tenacity and courage and will renew your faith in the power of an individual to bring about change.

To learn more about how you can help fight human trafficking, visit the foundation's website: www.somaly.org.
PUBLISHERS WEEKLY
The horror and violence perpetrated on young girls to feed the sex trade industry in southeast Asia is personalized in this graphic story. Of "mixed race," Khmer and Phnong, Mam is living on her own in the forest in northern Cambodia around 1980 when a 55-year-old stranger claims he will take her to her missing family. "Grandfather" beats and abuses the nine-year-old Mam and sells her virginity to a Chinese merchant to cover a gambling debt. She is subsequently sold into a brothel in Phnom Penh, and the daily suffering and humiliation she endures is almost impossible to imagine or absorb ("I was dead. I had no affection for anyone"). She recounts recalcitrant girls being tortured and killed, and police collusion and government involvement in the sex trade; she manages to break the cycle only when she discovers the advantages of ferengi (foreign) clients and eventually marries a Frenchman. She comes back to Cambodia from France, now unafraid, and with her husband, Pierre; sets up a charity, AFESIP, "action for women in distressing circumstances"; and fearlessly devotes herself to helping prostitutes and exploited children. The statistics are shocking: one in every 40 Cambodian girls (some as young as five) will be sold into sex slavery. Mam brings to the fore the AIDS crisis, the belief that sex with a virgin will cure the disease and the Khmer tradition of women's obedience and servitude. This moving, disturbing tale is not one of redemption but a cry for justice and support for women's plight everywhere.
Read it.
It's tough to face the evils that human beings are capable of perpetrating. But if we ignore them then we set ourselves up to commit them. Even if you reject everything else the Bible teaches, it is easy to see that the human heart is broken and capable of great wrongs. This book is not a spiritual one, it is human. But the spiritual call to action is written on every page. Somaly Mam is my wife's hero, and now she is one of mine.
A must read for all Americans
I first learned of somaly mam on the Half the Sky documentary. I loved this book. I read it over two days, I couldn't put it down. Heart-breaking but so honest and real. Somaly shares the horrors that have happened to her and other young girls. It really is so important to gain an awareness of what is going on right now... We need to help...
Has to be told again and again
Whoever gave it one star has no heart and is devoid of any compression for another human being. Because of people like that sex slavery is proliferating despite more and more material written on it. Somaly Mam is a special kind of person. If you haven't read anything on this topic yet, it is a must read, one of the better written books on the pic from the source who experienced it firsthand herself. No statistics, just stories with names.
More Books by Somaly Mam & Ayaan Hirsi Ali
See All