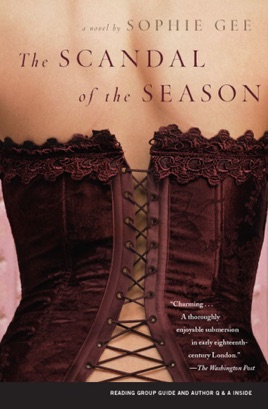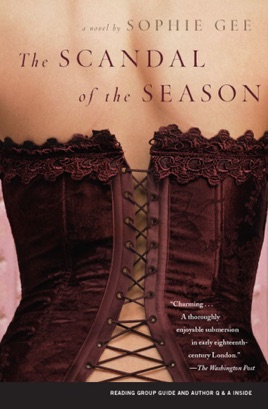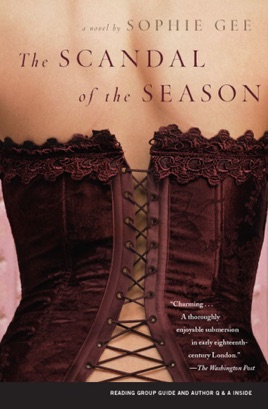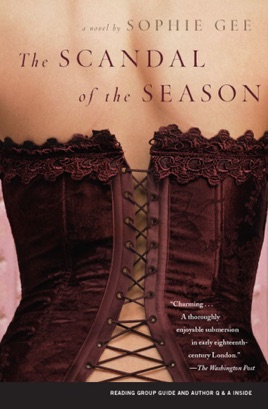 The Scandal of the Season
A Novel
Publisher Description
London, 1711. As the rich, young offspring of the city's most fashionable families þll their days with masquerade balls and clandestine court-ships, Arabella Fermor and Robert, Lord Petre, lead the pursuit of pleasure. Beautiful and vain, Arabella is a clever coquette with a large circle of beaus. Lord Petre, seventh Baron of Ingatestone, is a man-about-town with his choice of mistresses. Drawn together by an overpowering attraction, the two begin an illicit affair.

Alexander Pope, sickly and nearly penniless, is peripheral by birth, yet his uncommon wit and ambition gain him unlikely entrance into high society. Once there, privy to every nuance and drama, he is a ruthless observer. He longs for the success that will cement his place in society; all he needs is one poem grand enough to make his reputation.

As the forbidden passion between Arabella and Lord Petre deepens, an intrigue of a darker nature threatens to overtake them. Fortunes change and reputations -- even lives -- are imperiled. In the aftermath, Pope discovers the idea for a daring poem that will catapult him to fame and fortune.
PUBLISHERS WEEKLY
Hunchbacked satirist poet Alexander Pope finds inspiration in the foibles of 18th-century London's young, rich and arrogant in Gee's shrewd debut, an erudite period piece filled with outrageous flirtation, social maneuvering and contests of wit. The low-born Pope is permitted entry to London's upper echelons after some of his poems gain a gilded readership, and his literary ambitions and adventures in the city with childhood friends Martha and Teresa Blount are offset by the passionate but clandestine romance between the beautiful Arabella Fermor (who happens to be related to the Blounts), and the haughty Lord Petre, whose involvement in a plot to assassinate the queen lands him in a tight spot. The stories intersect when Pope immortalizes the lovers' high-class intrigue in a scalding poem. The novel is sprinkled with literary cameos and jokes English lit majors will appreciate, while crackling verbal one-upmanship and crude double entendres should keep the hoi polloi turning pages. The main disappointment is that Pope's much talked about poems never appear in full. But that's a small blemish, and Gee's take on the Paris Hilton like figures who pranced through London 300 years ago manages to be simultaneously tabloid bawdy and academy proper.
The Scandal of the Season
If you adore Downtown Abby, you'll be captivated by The Scandal of the Season.
It is a historical novel that chronicles the intertwining lives of the upper class English and several others who have the opportunity to nibble about the edges of society.
Alexander Pope, sickly with a permanently deformed hunch back, is a recently published poet. He hopes to strike it big in London so that despite his physical shortcomings he could marry the maiden of his dreams, Teresa Blount. Teresa, the more aspiring of the two Blount sisters, and Martha go to London for the "season" to make their social rounds with their spectacularly beautiful and immensely sought after cousin, Arabella Fermor.
Alexander is well acquainted with the Blounts from childhood. Teresa knows that's he is smitten but she is setting her sights on the dashing bon vivant Lord Robert Petre. Lord Petre would be a prize for anyone with not only good looks but a title and a small fortune as well. He is rather bored with his recent London dalliances but the second he feasts his eyes on the ravishing Arabella, he will stop at nothing to sample her lusciousness. Arabella, grand beauty and grand flirt, succumbs to the charms of Lord Petre.
During the season of levees, masquerade balls and evenings at the opera, they slip away with astonishing regularity up to his bed chamber once she has been deflowered there.
Alexander establishes his fame amongst the London set with the publishing of his poetry but fortune eludes him. If only he could find inspiration in London to write the life altering sensation he knows he is capable of penning. The reward for his efforts would be the hand of Teresa Blount. In a moment of stunning forthrightness he admits his desires to the object of his affection. She explodes in fury at the presumption that under any circumstances would she consider linking herself to the deformed and impoverished little toad that he is. Furthermore she suspects that the reason she hasn't been snagged by far more suitable gentlemen he because he has circulated to all and sundry that they have an attachment.
She imagines that were it not for him surely she could have diverted the attention of Lord Petre from her cousin.
Fat chance of that ever happening since neither of the Blount sisters have a fat dowry lurking in a bank vault. Their brother holds the purse strings and he has obligations of his own in the maintenance of the family's rustic estate.
Lord Petre surprises himself by falling in love with the bedazzling Arabella and was slowly coming around to the thought that he was ready to marry her when he is blackmailed by the loyal footman who assisted him in smuggling the fair Arabella up the back stairs.
Lord Petre is forced by his mother and his male guardian to marry an uncomely 15 year old with a massive fortune.
Although he is in love with Arabella, a pound sterling is a pound sterling so Arabella is out of the running. He withholds the news of his engagement from her but the news has been circulating in whispers at the final grand gathering of the social season, The Queen's Party at Hampton Palace.
Goaded by a couple of guests, Lord Petre causes a scandal when he takes a keepsake of the forbidden love in a very public display after which action Arabella faints.
The writing transports you to the early 1700s, to a life we, gentle readers, can only imagine.
Keep a dictionary handy. You'll give it quite a workout.