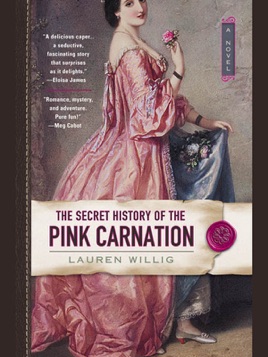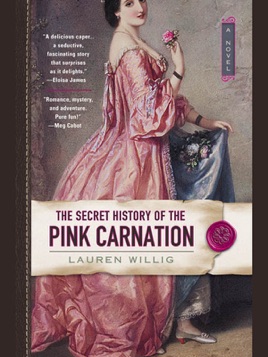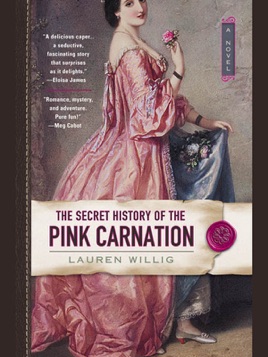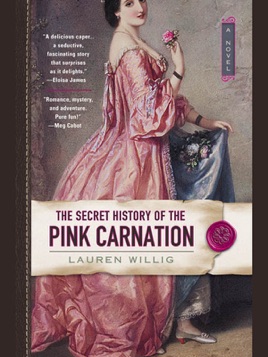 The Secret History of the Pink Carnation
A Pink Carnation Novel
Publisher Description
Everything is coming up carnations in this national bestselling series

Realizing romantic heroes are a thing of the past, graduate student Eloise Kelly is determined to focus on her work. Her first stop: England, to finish her dissertation on the English spies of the Napoleonic Wars, like the Scarlet Pimpernel and the Purple Gentian.

But her greatest conquest is to reveal the most elusive spy of them all, the dashing Pink Carnation. As she does, she discovers something for the history books-a living, breathing hero all her very own...
PUBLISHERS WEEKLY
It's difficult to narrate one book, much less a story within a story that spans two different time periods, but Reading meets this challenge with a bravado befitting Willig's swashbuckling tale. American academic Eloise Kelly has come to London to uncover the identity of the Pink Carnation, a British spy who infiltrated Napoleonic France. Eloise, who's given an appropriately flat American inflection, hits a vein of gold when she uncovers letters describing a love affair between the Purple Gentian, another famous spy, and Amy Balcourt, who may be the Pink Carnation. Much of the novel focuses on the far-fetched love story between Amy and Richard Selwick (aka the Purple Gentian), and here Reading truly demonstrates her vocal prowess. Amy's accent smacks strongly of her British roots but also proves as impish as her character, and Richard possesses a deep voice that actually sounds sexy. As the adventure progresses, evil French spies and formidable dowagers roll off of Reading's agile tongue, making this a fun, dynamic listen. "Simultaneous release with the Dutton hardcover (Forecasts, Jan. 24). " .
Highly Recommend! Who Doesn't Love Spies?
My teenaged daughter borrowed this historical romance from a friend and pronounced it awesome. I like a good (awesome is even better) historical romance, so I decided to read it myself. This isn't the genre I generally reach for to quench my word-thirst, but if it's awesome I can't pass it up.

Was it awesome? Yes. Yes it was. Imagine, if you will, England in the spring of 1803. Okay, I can't imagine it either, but you won't need to. Willig sets the scenes beautifully, but never lets the landscape overtake the plot. Her characters are just as delightful. The main heroine is absolutely delicious. I love her personality. She's full of strength and weakness, courage and trepidation, purposefulness and utter distraction. Willig's ability to give the reader such in-depth knowledge of Amy Balcourt is what draws you in. Not to be overshadowed by the heroine, the hero, Lord Richard Selwick, is quite the mixture himself. Strong and confident, but completely confounded by this unexpected woman.

Other characters are just as intriguing and well detailed. I adored Miss Gwen and her fine cane. You'll love her too when you read this book.

Oh... and there's another story going on while you read about Richard and Amy. Modern day Eloise is writing her dissertation. She's in England chasing the Pink Carnation by way of digging into the past of the Purple Gentian. Rummaging through old papers and spending days inside library dungeon-esque basements, her determination to unravel the mystery is contagious.

Even if you don't usually go for historical romance, I think you'll find this a rewarding read. Just think of it as a spy novel set in the past with some romance on the side.

KarenJones.us
Goodreads.com/TheKarenJones
More Books by Lauren Willig
See All