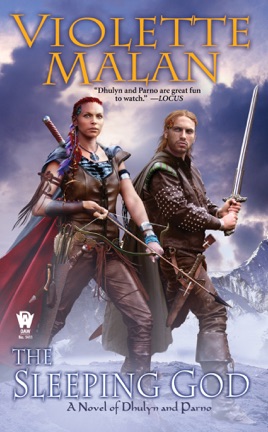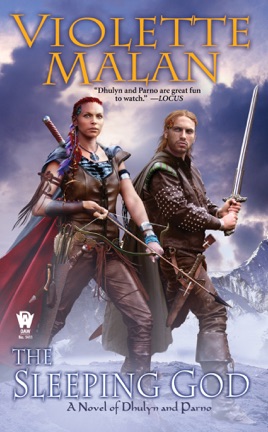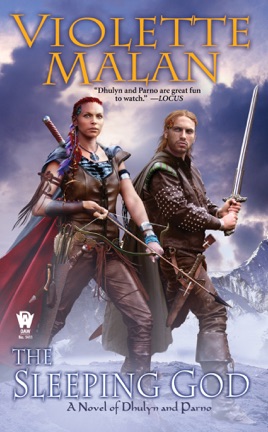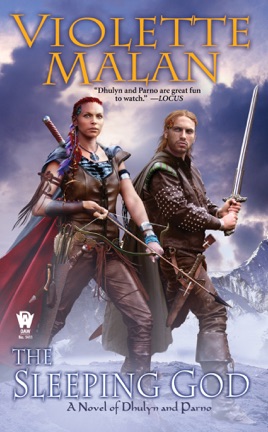 The Sleeping God
A Novel of Dhulyn and Parno
Publisher Description
Dhulyn Wolfshead and Parno Lionsmane are members of the Mercenary Guild, both veterans of numerous battles and missions, each a master of martial arts. And more than that, Dhulyn and Parno are Partners, a Mercenary bond that can only be broken by one or both of their deaths. Their past lives are supposed to be irrelevant?but Dhulyn and Parno have histories and secrets that may make all the difference between success and failure in the mission that awaits them...
PUBLISHERS WEEKLY
Combining classic heroic fantasy with a metaphysical twist, Malan (The Mirror Prince) introduces the Mercenary Brotherhood and two of its most fascinating members: Dhulyn Wolfshead, a psychically gifted former slave, and Parno Lionsmane, a rugged exiled nobleman. Their assignment seems simple: deliver Mar-eMar, a young orphan, to her distant relatives of the demi-royal Tenebro House in Imrion s capital, Gotterang. The trip quickly turns complicated and dangerous as they encounter the deadly persecution of the Marked, supernaturally talented people whom the fanatical New Believers think are trying to wake the Sleeping God and destroy the world. Parno must confront his noble past and Dhulyn fight the limitations of her visions as they battle the elusive, terrifying Green Shadow, who s manipulating the New Believers for his own ends. Malan s sometimes wordy, philosophical musings weigh down the action, but she makes up for it with abundant swordplay and the protagonists strong, entertaining partnership.
The Sleeping God
Wonderful characters and a story that keeps you guessing
The Sleeping God
When I bought this book it was the title and cover that caught my eye. But the story is a magnet, the rich details,and bonding trust,passion and friendship between the two main characters make for a wonderful tale. This book started a new series for me and many hours of joy.
So good
This book is amazing. I can't put it down. The detail and complexity is unbelievable. I will be reading more of her books very soon.
More Books by Violette Malan
See All