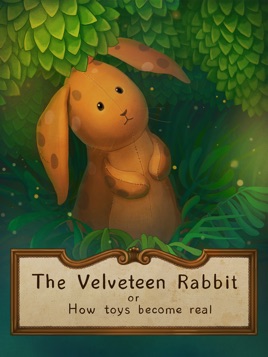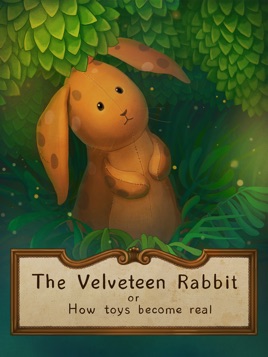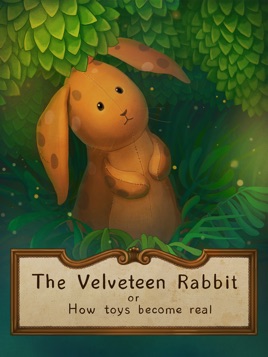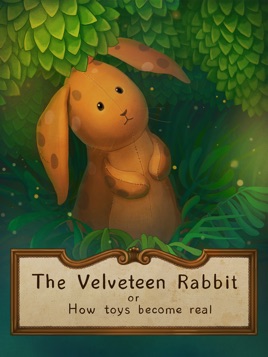 The Velveteen Rabbit
Or How Toys Become Real
Publisher Description
The Velveteen Rabbit or How Toys Become Real is a children's novel written by Margery Williams and illustrated by William Nicholson. It chronicles the story of a stuffed rabbit and his quest to become real through the love of his owner. The book was first published in 1922 and has been republished many times since.

With stunning graphics and handpicked content this book was specifically designed for iPads users. Your kids will love the illustrations.

A boy receives a Velveteen Rabbit for Christmas. The Velveteen Rabbit is snubbed by other more expensive or mechanical toys, the latter of which fancy themselves real. One day while talking with the Skin Horse, the Rabbit learns that a toy becomes real if its owner really and truly loves it.

When the boy's china dog is misplaced, the Velveteen Rabbit is given to the boy as a quick replacement by the maid. The Velveteen Rabbit soon takes his place as the boy's constant companion. The Rabbit becomes shabbier, but the boy loves him no matter what. In the woods near the boy's home, the Velveteen Rabbit meets actual rabbits, and learns about the differences between himself and the real rabbits when the real rabbits prove he is not real by his inability to hop and jump.

The Velveteen Rabbit's companionship with the boy lasts until the boy falls ill with scarlet fever. The boy becomes too ill to play for a very long time; upon his recovery, he is sent to the seaside on doctor's orders. The doctor orders all the toys the boy has played with, including the Rabbit, be burned in order to disinfect the nursery. The boy is given a new plush rabbit and is so excited about the trip to the seaside that he forgets his old Velveteen Rabbit. While awaiting the bonfire, in which the Velveteen Rabbit will be burned, the Rabbit cries a real tear. This tear brings forth the Nursery Magic Fairy. She tells the Rabbit that he was only real to the boy, and then brings him to the woods and kisses him, making him real to everybody. He soon discovers that he is a real rabbit at last and runs to join the other rabbits in the wild.

The following spring, the boy sees the Rabbit hopping in the wild and thinks he looks like his old Velveteen Rabbit, but he never knows that it actually was.
PUBLISHERS WEEKLY
Hague's warm paintings give a soft sheen to Williams's classic story. Ages 5-10.
the velveteen rabbit
I use to read this story to my kids when they were little I got this iBook so I could read it to my first granddaughter
I just love this story and all the memories of my kids when they were little
Cute
A cute and touching story worth every cent. I recommend this all the way.
Love it
Amazing book, beautifully illustrated!
More Books by Margery Williams
See All